Holiday Meal Planning, Pumpkin Bread and Making A Difference -HBHW Newsletter
October 28st 2009
Editorial
This past weekend was "Make A Difference Day" – something we always recognize with our girl scout troops. This year we organized a food drive to stock  a local food bank. We also had a nice daisy scout meeting yesterday about making the world a better place. It is amazing how many ideas 6-year-olds can come up with. They included planting flowers, making and sending cards, being nice to other kids even when they are different, helping mom and dad, recycling … These girls just kept going and we all promised to do our part in making the world a better place. Today's Inspirational Story was inspired by this "theme" as well. It made me cry and I hope it will touch you as well.
The Hillbilly Housewife Blog Tour is finishing up. This week I'm blogging on FamilyFoodies.com as well as a few other blogs. You can see one of my posts about holiday meal planning in the article section below. Once some of the other posts are up, I will post another update with links of where you can find them on the HBHW blog.
The crockpot cooking ebook was such a hit that I decided to keep it on sale for a few more days. If you haven't gotten yoru copy yet, you can order it here – Crockpot Cooking Made Simple.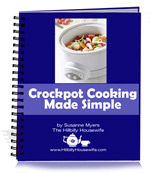 For the next few days you can get your copy for $5 here:
Of course I'm still donating 20% of all profits to Breast Cancer Research this month and that applies to any Crockpot Ebook sales as well.
That's it for this week. As always, I welcome your comments and suggestions. Feel free to email me at susanne@hillbillyhousewife.com
Warm Regards,
Susanne – The Hillbilly Housewife
Inspirational Quote
"Friendship isn't a big thing – it's a million little things". -Author Unknown
Shared by Ellie Mae, one of our members in the Hillbilly Housewife Club

Sponsor
Living On A Dime E-book Extravaganza package- Retail Price – 11 e-books for $45.00

The Living On A Dime E-book Extravaganza package – 11 e-books for $45.00. The e-books included in this offer (Money Management, Grocery Savings, Cleaning Cents, Kids Cents, Debt Free Holidays, Menus On A Dime, Quick Dinners, Plan Ahead Leftovers, Pretty For Pennies, Moving On A Dime and Gifts In A Jar) are also available separately and are described below.

Click Here to learn more about The Living On A Dime E-book Extravaganza package.
Reader Question
No new reader questions this week. Email me yours 🙂
News From The HBHW Club
This is a new section of the newsletter. Each week I'm going to share some tidbits of what's going on at the HBHW Club with you. I hope you enjoy these extra tips, recipes and ideas and of course would love to have you join the club.
As a HBHW newsletter subscriber, you can join for only $10 per month here: http://www.hillbillyhousewifeclub.com/special.html
And to make it even easier, I'll let you try it out for just a dollar for the first 7 days.
Here's one of the recipes that were submitted this past week.
Nutty Pumpkin Bread
* 2 cups flour
* 2 tsps baking powder
* 1/2 tsp baking soda
* 1 tsp salt
* 1 tsp cinnamon
* 1/2 tsp nutmeg
* 1 cup pumpkin
* 1 cup sugar
* 1/2 cup milk
* 2 eggs
* 1/4 cup butter or margarine, softened
* 1 cup chopped nuts – your choice
Preheat oven to 350 degrees.
Sift together flour, baking powder, baking soda, salt, cinnamon, and nutmeg.
In separate bowl, combine the pumpkin, sugar, milk, and eggs.
Carefully add the dry ingredients to wet ingredients, then add softened butter and combine well.  Add nuts and stir.
Pour mixture into a loaf pan and bake in a 350 degree oven for 45 to 50 minutes or until knife inserted in the middle comes out dry.
And here are some of the other recipes that have been added in the past few days.
Easy Stuffed Bell Peppers
Regal Pumpkin Cake
Nutty Popcorn Crunch
Oven Baked Caramel Corn
Spiced Hot Apple Cider
Elegant Pumpkin Squares
All in all, we have over 230 new recipes in the member area already.
What else has been going on at the HBHW Club? We've been talking about getting ready for Halloween, making petfood, copycat recipes and cleaning grease off the stove.  I'm sure you have a lot to contribute to the conversation. Ready to join us? Try The HBHW Club for only $1. We'd love to have you! http://www.hillbillyhousewifeclub.com/special.html
Featured Article
This week as part of my HBHW on the Road blog tour, I'm writing on FamilyFoodies.com. On Monday I shared some tips on how to plan the big holiday meals coming up (Thanksgiving, Christmas etc.). I find that doing some propper planning ahead of time makes a big job much easier and I actually have enough energy at the end to enjoy the meal and spending time with my family and friends. Here it is:
Planning Ahead For The Big Holiday Meals
Frugal Tips
[RSSImport display="3″ feedurl="http://www.hillbillyhousewife.com/category/frugal-tips/feed" displaydescriptions=true end_item="
" start_item=""]
Do you have a tip to share? Fill out the submit a frugal tip form and I'll be glad to add it to the site and share your tip in an upcoming edition of the newsletter.
Recipes
Here are some of the most recent recipes that have been added to the HBHW site. Enjoy!
[RSSImport display="5″ feedurl="http://www.hillbillyhousewife.com/category/recipes/feed" displaydescriptions=true end_item="
" start_item=""]
Do you have a recipe you would like to share? Click here to send it to me and I'll be happy to add it to the website.
I'm Looking For:
This section is going to be all about you. If you are looking for a particular recipe or a tip on how to do something, submit it here and I will post it in an upcoming newsletter. I'll give you my input and other readers of the newsletter will have the opportunity to share their recipes and tips as well. So take a moment to post your questions and of course if you have a tip or idea for any question posted in this section feel free to leave a comment under the appropriate post.
I'm Looking For Requests
[RSSImport display="20″ feedurl="http://www.hillbillyhousewife.com/category/newsletter/recipe-requests/feed" displaydescriptions=true end_item="
" start_item=""]
I'm Looking For Responses
Below you will find some of the recent responses to the "I'm Looking For" Requests. You may also want to go directly to this section and browse through all the recent submissions and replies. To do so, click on "I'm Looking for" here, and start looking through them.
[RSSImport display="20″ feedurl="http://www.hillbillyhousewife.com/comments/feed?cat=recipe-requests&withcomments=1″ displaydescriptions=true end_item="
" start_item=""]
Inspirational Story
WHO YOU ARE MAKES A DIFFERENCE
– Author Unknown
A teacher in New York City decided to honor each of her graduating high school seniors by telling each of them the difference she felt they made as an individual.
She called each student to the front of the class, one at a time. First she told the student how they had made a difference to her and the class. Then she presented them with a blue ribbon imprinted with gold letters reading: "Who I Am Makes a Difference."
She noticed a considerable attitudinal change in the class. So she decided to do a class project to determine what impact such recognition could have on their local community.
She gave each student three more ribbons, and asked them to go out and spread an "acknowledgment ceremony."
One of the boys in the class went to a junior executive in a nearby company, and honored him for helping him with his career planning. He gave him a blue ribbon and put it on his shirt.
Then the boy gave the executive two extra ribbons and asked him to find someone else to honor, and to in turn give them the extra blue ribbon so they could acknowledge a third person. The student asked the executive to report back to tell him what happened.
Later that day the junior executive went in to see his boss, who was known as a rather bad-tempered man. He sat his boss down and he told him that he deeply admired him for being a creative genius. The boss was very surprised. The junior executive asked him if he would accept the gift of the blue ribbon, and asked for permission to pin it on him.
His surprised boss gave his permission. The executive pinned the blue ribbon on his boss's jacket directly above his heart. Then he gave his boss the third blue ribbon, and told him of the boy's request.
That night the boss sat his 14-year-old son down and told him: "The most incredible thing happened to me today. I was in my office and one of my junior executives came in and told me he admired me, He gave me a blue ribbon for being a creative genius. Imagine that. He thinks I'm a creative genius."
He then told his son he wanted to honor him, and pinned the last remaining blue ribbon on his son's t-shirt.
The startled boy began to sob. He couldn't stop. His whole body shook. He looked at his father through his tears and told him: "Dad, earlier tonight I sat in my room and wrote a letter to you and Mom explaining why I was killing myself, and asking you to forgive me. I was going to commit suicide after you were asleep. I didn't think you cared for me at all."
His father walked upstairs and found a heartfelt letter full of anguish and pain. The envelope was addressed, "Mom and Dad."
The boss went back to work a changed man. He called in each employee one at a time to let them know that they made a difference.
Who you are DOES make a difference!
Don't forget it!
And make sure the people in your life
know how special they are!
Final Thought
That's it for this edition of the Hillbilly Housewife Newsletter. I hope you've had as much fun reading it as I had creating it for you. I also hope that you have found the information helpful and useful. And by all means feel free to forward the newsletter to family and friends or even better, encourage them to subscribe to it.
Do you have a question, a tip, a recipe or a story you'd like to share with us? Email it to me and I'll include it in a future issue. Can't wait to see what you have to say.
Warm Wishes,
Susanne – The Hillbilly Housewife
Disclosure: Some of the links below are affilate links, meaning, at no additional cost to you, I will earn a commission if you click through and make a purchase.