Crockpot Recipes, Planning Crockpot Meals and Stuffed Tuna Rolls – HBHW Newsletter
October 21st 2009
Editorial
Hi there… it's another cold morning here in the south, which isn't usually a problem, except for the fact that we just found out that our heat isn't working. It should be fixed in the next few days and in the meantime we're making do with thick socks and some blankets and afghans. I'm about to start a big pot of split pea soup and make some fresh bread in the breadmaker for a nice warm lunch.
I'm excited to announce the next ebook in the HBHW collection – Crockpot Cooking Made Simple. And to go with the theme both featured articles this week are on slowcooker cooking.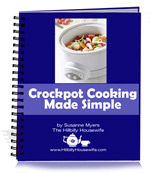 I mentioned this new guide in an email I sent out yesterday and so far, 80 people got their copy. The feedback has been phenomenal. For the next few days you can get your copy for $5 here:
Of course I'm still donating 20% of all profits to Breast Cancer Research this month and that applies to any Crockpot Ebook sales as well.
That's it for this week. As always, I welcome your comments and suggestions. Feel free to email me at susanne@hillbillyhousewife.com
Warm Regards,
Susanne – The Hillbilly Housewife
Inspirational Quote
"Life is change. Growth is optional. Choose wisely." – Karen Kaiser Clark
Shared by Patti, one of our members in the Hillbilly Housewife Club

Sponsor
Living On A Dime E-book Extravaganza package- Retail Price – 11 e-books for $45.00

The Living On A Dime E-book Extravaganza package – 11 e-books for $45.00. The e-books included in this offer (Money Management, Grocery Savings, Cleaning Cents, Kids Cents, Debt Free Holidays, Menus On A Dime, Quick Dinners, Plan Ahead Leftovers, Pretty For Pennies, Moving On A Dime and Gifts In A Jar) are also available separately and are described below.

Click Here to learn more about The Living On A Dime E-book Extravaganza package.
Reader Question
I didn't get any new reader questions via email this week, so I grabbed one out of the HBHW Club Forum. Here it is:
I grew up in a family where I ate everything on my plate. This included kidney beans, lima beans, pinto beans, split pea soup and, well you get the idea.
My family will eat pork n beans from a can that I "doctor" up and they tolerate chili beans in the chili (although my son digs them out of the bowl and refuses to eat them). I want to start serving lentils and other beans in order to stretch my grocery budget and was wondering does anyone have some tips for serving them to picky eaters (or disguising them in a dish). Added to this dilemma is the fact that my husband dislikes cheese for the most part. He will eat it on pizza and sliced extremely thin for grilled cheese but that is it. I love cheese and so does my son so I usually sprinkle cheese on our section of a casserole.
I was thinking of adding lentils to chili or cook them with meat as a meat stretcher – something I have never done. Anyone ideas?
Martha C. from Iowa
Adding lentils and beans to stretch ground beef is an excellent idea. You may also want to try this recipe
http://www.hillbillyhousewife.com/tacolentilsrice.htm
I've made lentil sloppy joes before that turned out great. Cook the lentils, saute some onion in a pan in a little oil until soft, add your lentils and a some sloppy joe sauce. Simmer, then serve on buns.
News From The HBHW Club
This is a new section of the newsletter. Each week I'm going to share some tidbits of what's going on at the HBHW Club with you. I hope you enjoy these extra tips, recipes and ideas and of course would love to have you join the club.
As a HBHW newsletter subscriber, you can join for only $10 per month here: http://www.hillbillyhousewifeclub.com/special.html
And to make it even easier, I'll let you try it out for just a dollar for the first 7 days.
Here's one of the recipes that were submitted this past week.
Stuffed Tuna Rolls
* 10 to 15 dinner rolls (depending on size)
* 1 lb Cheddar cheese, shredded
* 1 green bell pepper, chopped fine
* 1 bunch green onions, chopped fine
* 1/2 cup chili sauce
* 3/4 cup mayonnaise
* dash Worcestershire sauce
* dash hot sauce (optional)
* 2 large cans tuna in water, drained
Preheat oven to 350 degrees.
Slice into roll about 1/3 way lengthwise and scoop out some of insides.  Mix all ingredients together until blended well.  Divide tuna filling evenly between the rolls, stuffing pretty full.  Wrap each roll tightly in tin foil and place on baking sheet in 350 degree oven for 30 to 40 minutes.  (You may open foil for a few minutes to crisp the roll.   You can substitute crab meat for this recipe if you have it on hand instead of tuna.
And here are some of the other recipes that have been added in the past few days.
Elegant Pumpkin Squares
Homemade Shake-It Bake-It
German Crumb Coffee Cake
Cajun Cabbage Bake
Tuna Potato Patties
All in all, we have over 230 new recipes in the member area already.
What else has been going on at the HBHW Club? We've been talking about homemade Christmas gifts (Members are busy coming up with as many ideas as possible for every letter of the alphabet – what a fun post to read every day), implementing things from this month's resource report about saving on utilities, pressure cooking and more.  I'm sure you have a lot to contribute to the conversation. Ready to join us? Try The HBHW Club for only $1. We'd love to have you! http://www.hillbillyhousewifeclub.com/special.html
Featured Article
I have two articles for you today. Since crockpot cooking has been on my mind quite a bit this week, both of them are on that topic. Here they are:
Quick and Easy Crockpot Recipes
Frugal Tips
[RSSImport display="3″ feedurl="http://www.hillbillyhousewife.com/category/frugal-tips/feed" displaydescriptions=true end_item="
" start_item=""]
Do you have a tip to share? Fill out the submit a frugal tip form and I'll be glad to add it to the site and share your tip in an upcoming edition of the newsletter.
Recipes
Here are some of the most recent recipes that have been added to the HBHW site. Enjoy!
[RSSImport display="5″ feedurl="http://www.hillbillyhousewife.com/category/recipes/feed" displaydescriptions=true end_item="
" start_item=""]
Do you have a recipe you would like to share? Click here to send it to me and I'll be happy to add it to the website.
I'm Looking For:
This section is going to be all about you. If you are looking for a particular recipe or a tip on how to do something, submit it here and I will post it in an upcoming newsletter. I'll give you my input and other readers of the newsletter will have the opportunity to share their recipes and tips as well. So take a moment to post your questions and of course if you have a tip or idea for any question posted in this section feel free to leave a comment under the appropriate post.
I'm Looking For Requests
[RSSImport display="20″ feedurl="http://www.hillbillyhousewife.com/category/newsletter/recipe-requests/feed" displaydescriptions=true end_item="
" start_item=""]
I'm Looking For Responses
Below you will find some of the recent responses to the "I'm Looking For" Requests. You may also want to go directly to this section and browse through all the recent submissions and replies. To do so, click on "I'm Looking for" here, and start looking through them.
[RSSImport display="20″ feedurl="http://www.hillbillyhousewife.com/comments/feed?cat=recipe-requests&withcomments=1″ displaydescriptions=true end_item="
" start_item=""]
Inspirational Story
A SLAVE TO HIS DESTINY
by Adam Khan, , Self-Help Stuff That Works
One morning a sixteen-year-old boy was kidnapped from his house by a band of knife-wielding thugs and taken to another country, there to be sold as a slave. The year was 401 AD.
He was made a shepherd. Slaves were not allowed to wear clothes, so he was often dangerously cold and frequently on the verge of starvation. He spent months at a time without seeing another human being — a severe psychological torture.
But this greatest of difficulties was transformed into the greatest of blessings because it gave him an opportunity not many get in a lifetime. Long lengths of solitude have been used by people all through history to meditate, to learn to control the mind and to explore the depths of feeling and thought to a degree impossible in the hubbub of normal life.
He wasn't looking for such an "opportunity," but he got it anyway. He had never been a religious person, but to hold himself together and take his mind off the pain, he began to pray, so much that "…in one day," he wrote later, "I would say as many as a hundred prayers and after dark nearly as many again…I would wake and pray before daybreak — through snow, frost, and rain…."
This young man, at the onset of his manhood, got a 'raw deal.' But therein lies the lesson. Nobody gets a perfect life. The question is not "What could I have done if I'd gotten a better life?" but rather "What can I do with the life I've got?"
How can you take your personality, your circumstances, your upbringing, the time and place you live in, and make something extraordinary out of it? What can you do with what you've got?
The young slave prayed. He didn't have much else available to do, so he did what he could with all his might. And after six years of praying, he heard a voice in his sleep say that his prayers would be answered: He was going home. He sat bolt upright and the voice said, "Look, your ship is ready."
He was a long way from the ocean, but he started walking. After two hundred miles, he came to the ocean and there was a ship, preparing to leave for Britain, his homeland. Somehow he got aboard the ship and went home to reunite with his family.
But he had changed. The sixteen-year-old boy had become a holy man. He had visions. He heard the voices of the people from the island he had left — Ireland — calling him back. The voices were persistent, and he eventually left his family to become ordained as a priest and a bishop with the intention of returning to Ireland and converting the Irish to Christianity.
At the time, the Irish were fierce, illiterate, Iron-Age people. For over eleven hundred years, the Roman Empire had been spreading its civilizing influence from Africa to Britain, but Rome never conquered Ireland.
The people of Ireland warred constantly. They made human sacrifices of prisoners of war and sacrificed newborns to the gods of the harvest. They hung the skulls of their enemies on their belts as ornaments.
Our slave-boy-turned-bishop decided to make these people literate and peaceful. Braving dangers and obstacles of tremendous magnitude, he actually succeeded! By the end of his life, Ireland was Christian. Slavery had ceased entirely. Wars were much less frequent, and literacy was spreading.
How did he do it? He began by teaching people to read — starting with the Bible. Students eventually became teachers and went to other parts of the island to create new places of learning, and wherever they went, they brought the know-how to turn sheepskin into paper and paper into books.
Copying books became the major religious activity of that country. The Irish had a long-standing love of words, and it expressed itself to the full when they became literate. Monks spent their lives copying books: the Bible, the lives of saints, and the works accumulated by the Roman culture — Latin, Greek, and Hebrew books, grammars, the works of Plato, Aristotle, Virgil, Homer, Greek philosophy, math, geometry, astronomy.
In fact, because so many books were being copied, they were saved, because as Ireland was being civilized, the Roman Empire was falling apart. Libraries disappeared in Europe. Books were no longer copied (except in the city of Rome itself), and children were no longer taught to read. The civilization that had been built up over eleven centuries disintegrated. This was the beginning of the Dark Ages.
Because our slave-boy-turned-bishop transformed his suffering into a mission, civilization itself, in the form of literature and the accumulated knowledge contained in that literature, was saved and not lost during that time of darkness. He was named a saint, the famous Saint Patrick. You can read the full and fascinating story if you like in the excellent book How the Irish Saved Civilization by Thomas Cahill.
"Very interesting," you might say, "but what does that have to do with me?"
Well…you are also in some circumstances or other, and it's not all peaches and cream, is it? There's some stuff you don't like — maybe something about your circumstances, perhaps, or maybe some events that occurred in your childhood.
But here you are, with that past, with these circumstances, with the things you consider less than ideal. What are you going to do with them? If those circumstances have made you uniquely qualified for some contribution, what would it be?
You may not know the answer to that question right now, but keep in mind that the circumstances you think only spell misery may contain the seeds of something profoundly Good. Assume that's true, and the assumption will begin to gather evidence until your misery is transformed, as Saint Patrick's suffering was, from a raw deal to the perfect preparation for something better.
Ask yourself and keep asking, "Given my upbringing and circumstances, what Good am I especially qualified to do?"
Final Thought
That's it for this edition of the Hillbilly Housewife Newsletter. I hope you've had as much fun reading it as I had creating it for you. I also hope that you have found the information helpful and useful. And by all means feel free to forward the newsletter to family and friends or even better, encourage them to subscribe to it.
Do you have a question, a tip, a recipe or a story you'd like to share with us? Email it to me and I'll include it in a future issue. Can't wait to see what you have to say.
Warm Wishes,
Susanne – The Hillbilly Housewife
Disclosure: Some of the links below are affilate links, meaning, at no additional cost to you, I will earn a commission if you click through and make a purchase.