Make Your Own Popsicles – Frugal Family Fun
On a hot summer day, there's nothing better than a yummy popsicle… unless you make it yourself. It's a quick and easy project to do with the kids and you know exactly what they are enjoining in their frozen treat. You can pick up a set of popsicle molds at a super store like Walmart or Target or even find them at a dollar store during the summer.
Or just grab some paper cups and popsicle sticks or use the ice cube tray along with some little sticks or even toothpicks. Use what you have and keep this inexpensive. Next you can simply freeze some of your kids favorite juice, or use one of the recipes below.
I use my large glass measuring cup for mixing up these recipes and pouring them into the molds. Be sure to leave about half an inch of space at the top of your molds (less if you're using ice cube trays) to give the mixture room to expand during the freezing process. My molds take about 4 hours to be frozen completely. Whip a recipe up in the morning and have the kids pour them into molds. By early afternoon your own homemade popsicles will be ready.
Here are some of my favorite Popsicle recipes.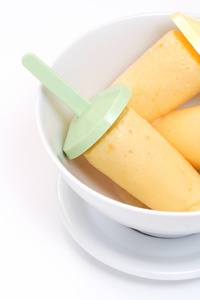 Got a great recipe for your own popsicles? Share it as a comment below.
Disclosure: Some of the links below are affilate links, meaning, at no additional cost to you, I will earn a commission if you click through and make a purchase.