Light Wheat Biscuit Mix
5 cups unbleached white flour
4 cups whole wheat flour
1-1/2 tablespoons salt
4 tablespoons baking powder
2 cups solid vegetable shortening
You need a very large bowl to make this mix, and also a clean container to put it in when it's done. I usually use a large, clean coffee can.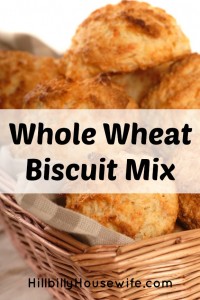 So, measure your flours into your large bowl. Add the salt and baking powder. Mix it all up with your fingers and hands. Be sure you wash them before you dig in. After the salt and baking powder are evenly distributed throughout the flour, add the shortening. Firmly pack solid shortening into a cup-size measure. Make sure there aren't any air pockets, as you pack it full. Level off the top with your finger so you have exactly one cupful. Scrape the shortening out of the cup into a big blob on top of the flour. Use your fingers to get out as much of the shortening as you can without being unduly obsessive about it. Now, measure another cupful of shortening and plop it on next to the first blob in the bowl of flour.
Using your hands, mash the flour and fat together until the entire mixture is light and crumbly. Try not to overmix. You will want small lumps to remain, about the size of peas or dried beans. When the mixture is evenly mashed together, and it actually resembles biscuit mix (only darker because of the whole wheat flour) you can stop. Transfer the biscuit mix to a clean coffee can, or other resealable container. Label and seal the can. You should have about 10-1/2 cups of biscuit mix.
This recipe can be used in any recipe calling for biscuit mix or Bisquick baking mix. This mix is better for you because of the whole grain flour, and reduced amounts of salt. Also, you can use trans-fatty-acid-free shortening in your own mix, to make it as healthy as possible. Spectrum is a brand name available in my neck of the woods.
I have tried a lot of whole wheat biscuit mixes to find the best one. All of the others turned out heavy and dense baked products. This one though, is perfect. Biscuits made with it are light and flaky the way biscuits are supposed to be, and impossible pies taste like they were made with store-bought biscuit mix, only they weren't. They were made with good, hearty, whole grains instead.
If you enjoyed this biscuit recipe, you may also want to try making my sweet wheat muffin mix. It's just as convenient and healthy as my wheat biscuit mix.
Homemade Mixes – Make It Yourself and Save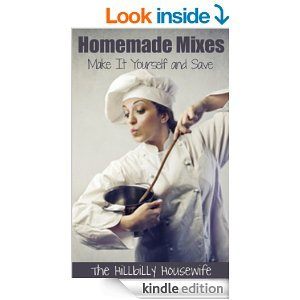 Making your own mix from scratch rather than buying it in the store not only saves you money but also saves you from all the additives and preservatives that are put in the foods we buy. The recipes include:
Apple Pie Spice Mix
Basic Muffin Mix
Brownie Mix
Caribbean Jerk Seasoning
Chocolate Chip Cookie Mix
Corn Bread Mix
Cream of Soup Mix
Fajita Seasoning
Fish Fry Coating Mix
Fruited Oatmeal Mix
Homemade Taco Seasoning Mix
Homemade Vanilla Chai Tea Mix
Disclosure: Some of the links below are affilate links, meaning, at no additional cost to you, I will earn a commission if you click through and make a purchase.