Leftover Turkey Crockpot Recipes
After we've eaten about as much turkey as we can handle around Thanksgiving and Christmas, I like to freeze the rest of the meat and use it in various crockpot recipes during the cold winter months.
I often buy an extra turkey or two right after Thanksgiving when stores mark them down. I just stick them in the oven and cook them while I'm busy around the house. Once the turkey had a chance to cool, I set some of the meat aside for dinner that night, then remove the rest and chop it up for freezer meals. The remaining turkey carcass can be used to make turkey stock. The finished stock will last about 5 days in the fridge or 3 months in the freezer and it can be used instead of chicken stock or chicken broth in any recipe.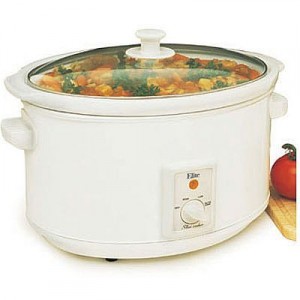 Here are some of my favorite leftover turkey crockpot recipes. All of them are quick and easy to put together and practically cook themselves. Start them in the morning and come home to a hot, home-cooked meal at night.
Let's start with one of my family's favorites – chili. It is such a nice change from the traditional turkey dinner flavor. By day three we are usually tired of that and this chili is just perfect. I make a large batch and freeze any leftovers. You can also make this turkey chili with regular ground turkey.
Then of course there's the always popular turkey and rice soup. We usually have some of that the day after Thanksgiving. I make the stock (see note above) that night or first thing in the morning and then use it to cook this soup in the slow cooker.
Or if you prefer, take a look at this turkey and noodle soup. It's also delicious as a chicken and noodle soup when you don't have leftover turkey to work with.
Easy Crockpot Turkey Noodle Soup
Last but not least, there are hot turkey sandwiches. They are just so much yummier than the plain old turkey and mayo ones. Give them a try and see  if you don't fall in love with this cheesy version as well.
Hot Turkey Sandwiches from the Crockpot
I'm sure there are plenty more crockpot recipes that use leftover turkey. Feel free to post yours as a comment below. I have two more turkeys sitting in my freezer and will have plenty of cooked turkey meat to go around. Can't wait to try out some new recipes.
Disclosure: Some of the links below are affilate links, meaning, at no additional cost to you, I will earn a commission if you click through and make a purchase.