MOST POPULAR RECIPES:
And having food and raiment let us be therewith content.

-1 Timothy 6:8

top of page
THE LATEST NEWS...

The doors to the Hillbilly Housewife Club are finally open. Come join me and a group of 90 other (and growing) frugal women to share tips, recipes and learn more about living a frugal lifestyle.

One member says: "It feels very comfortable here, a nice supportive community, kind of feels like putting on my sweats and curling up a comfy couch after a long day!".

Hope to see you in the Hillbilly Housewife Club.

"Freezer Cooking Made Simple" is now available in the HBHW ebook store. Save time and money by making your own freezer meals. Enjoy! - Susanne
Welcome!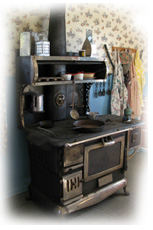 I'm Susanne, the new owner and creator of the Hillbilly Housewife. The focus here is on low-cost, home-cooking from scratch. The recipes are all tested in a real kitchen with hungry children, stalking cats, begging puppies and a playful husband underfoot. The ingredients are affordable and readily available in most areas.

Many of us are feeling the squeeze at the supermarket these day, and all of us are feeling it at the gas pump. The government continues to deny inflation, but I see the results of it in my grocery bill and my gas tank. The official USDA cost of food has risen to $500 a month for a family of 4 on the Thrifty Plan! As most of us tighten our belts, we may be wondering how to juggle expenses that only seem to rise.

Many of us have played the credit card game, using one card to make payments on another and then having no choice but to charge everyday expenses like gas and food. We know how fast a few charges can add up to an almost insurmountable mountain of debt. We sympathize with your situation because we've been there.

That's where this site comes into play. We are designed to help you reduce your grocery bill as low as it can go. It won't solve all of your financial woes, but it may give you some breathing room so you can make a significant dent in your situation. We teach you the best foods to buy on a budget and how to cook them so the family will be better fed than they've been in years. You'll find tips and techniques here that you won't find anywhere else on the web. Everything here is free, provided by God's grace. If the information you find here helps you and your circumstances, then please share what you have learned with others, so they too can benefit from your new knowledge.

--Susanne

Beginners Shortcuts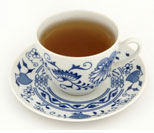 • Feed your whole family with our Emergency $45 Menu.

• If you have more to spend try our Everyday $70 Menu.

• Our Angel Food Menus are based on the foods provided by Angel Food Ministries.

• Both include full menus including snacks, plus grocery lists and a checklist of daily prep-work to keep you ahead of the game.

Shopping Strategies

• Some foods are almost Always Bargains. We take the guess work out of it by supplying you with a printable list to identify them.

• Do you know how to determine the Best Buys for Your Budget? Click Here to learn how.

• Are any Convenience Foods ever a good buy? Yes! We'll tell you which ones are worth your hard earned cash and which ones are a big ripoff!

Cooking Secrets

• Is it possible to make rich & creamy Milk Shakes without Ice Cream? Yes! Frosty & Delicious Magic Milk Shakes are prepared in under 2 minutes using items already on your pantry shelf. They taste like WENDY'S FROSTIES only better and cost less than 25¢ per serving!

• Do you have a Bread Machine with a missing manual? Never Fear! Our Free Bread Machine Manual explains everything your need to know!

• If you are buying little packets of yeast at the store, then you know how expensive they are. Is it possible to make a single packet of yeast rise 4 loaves of bread? Absolutely Yes! Our Old-Fashioned Low-Yeast Method allows you to save money on yeast and gives everyone the ability to fit homemade bread into their schedule!

• Get creative in the kitchen and put together Large Pizzas for between $1.50 and $3 each! We give you crust recipes, sauce recipes and tons of topping ideas.

• Muffins make for a great breakfast or snack. Try a few of our muffin recipes, freeze them and then pull them out and heat them as needed.

Save Time and Cash! Make Your Own Convenience Foods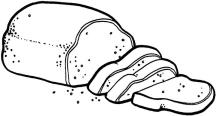 • Why pay over $1.50 for 3 wimpy servings of Seasoned Rice when you can make 5 or 6 large servings for less than a quarter? Click here for Recipes.

• Do you wish you could make your own bread, but feel intimidated by the process? Then Beginner's Bread is for you! We walk you through our Fool Proof Step by Step Process. Before you know it, you'll be Expert enough to conquer our big batch Family Bread

• Do you want to save money and time at the same time? Our Homemade Convenience Food Page will knock your socks off!
Budget Beverage Bargains

• Are soda pop and juice boxes burning a hole in your wallet? Read this Article and learn everything you ever wanted to know about the best beverage bargains for your budget!

• Are you spending $3 for coffee at Starbucks every morning? If so, you'll save over $150 a month by making your own Instant Latte! Tastes great and takes only seconds to prepare.

• A Baker's Dozen worth of Instant Coffee Mixes & Spiced Teas for Gift Giving & Coffee Breaks. All your favorite flavors made at home for pennies a cup!

• Do you crave a savory pick-me-up that is low in calories, fast & easy, and costs only pennies per serving? Check out our Cup-Of-Soup Recipes to see what you've been longing for.

Improve Your Health

• Half a Dozen free e-books based on Healthy Foods. Many delicious ethnic recipes included!

• Several of our family friendly recipes have delicious LITE versions with nutritional information and dietary exchanges. You'll find these well-tested family friendly recipes at the Healthy Hillbilly Housewife

• Did you know that it's possible to eat the leanest and the lowest priced ground meat? On a pauper's budget? Click here to learn how.

• Have you ever wondered what type of foods Abraham, Moses and Jesus ate? Click Here for a list of Common Biblical Foods, including scripture references.



• Did you know that you can actually Make Your Own Sanitary Pads! They are cheap, healthy and environmentally friendly. Modern women have lost the art, but YOU can reclaim it. Free Patterns and Instructions plus lots of links to more free patterns and instructions!


Planning and Organization Tips

• Have you run out of lunch ideas and lost inspiration to pack them day after day? Remove the drudgery from your morning routine! Check out Lunch Box Basics & Lunch Box Food for scores of fresh ideas.

• Three detailed & effective methods for Menu Planning. These will work anyone, even if you HATE to plan!

Emergency Low Cost Shopping Lists and Menus
What if you don't have time to plan or money to spare? What if the cupboards are bare and the family is crying for food?! What can you do? We've done all the planning for you. Just follow the extremely low cost shopping list and menu plan and you'll be able to feed a family of 4 to 6 the family 3 nutritious meals a day, plus snacks!


ALL OF THIS FOR FREE!!!
Notes About a Few Ingredients
1. Whenever milk is called for, the recipe was tested with reconstituted non-fat dry milk. If you use whole milk instead your results will be a little richer, but will pretty much turn out the same way.

2. Margarine is used almost exclusively in these recipes. Only one or two recipes call for real butter, and then it's expressly stated in the recipe. Margarine is 50¢ a pound and butter is $3 a pound, so let your pocket book be your guide. If you prefer, butter may be used instead of margarine in all of the recipes with good results.

In case you're interested in the health benefits and risks of margarine, allow me to share some of my research with you. It turns out that margarine is not only the least expensive spread, it's also the healthiest. "But what about trans fats?" you may be asking. The chart below should give you some reassurance.
| | | | |
| --- | --- | --- | --- |
| Based on 1 level Tablespoon | Trans Fat | Saturated Fat | Total of "Bad" Fats (The ones that raise LDL cholesterol levels) |
| Margarine | 0.5 to 2.5 grams | 2.3 grams | 2.8 to 4.8 grams |
| Butter | 0.3 grams | 7.2 grams | 7.5 grams |
As you can see margarine is much lower in the types of fats that can raise LDL cholesterol levels. Because of this the American Heart Association (also here), the National Heart, Lung & Blood Institute,the American Dietetic Association, and the Mayo Clinic all recommend margarine over butter as part of a healthy diet. Since it costs only a fraction of the price of butter, it is definitely the best choice for a challenged budget. The FDA puts it this way:

"Although some margarines contain more trans fat than butter, the total of trans and saturated fat (the LDL-C raising fats) is always less than the total for butter. The total for butter is much higher because of all the saturated fat that it contains." -- Quoted from the FDA. Click here for the whole page.

If you are still fearful about using margarine, then I recommend you choose one of the trans-fat-free buttery spreads now on the market. Promise and Smart Balance both make good products. Both of these spreads are less expensive than butter and they are much better for your cholesterol too.

The debate that some people have between margarine and butter is one of a luxurious nature. If you are wealthy enough have a choice between butter and margarine, then choose the one that is best for you. Those of us with small budgets will continue to use margarine because it is economical, versatile, tasty, and as the links above prove, still the healthiest choice.

3. Medium sized eggs are the least expensive in my area, so the recipes were all tested with medium sized eggs. You may use large eggs instead with good results. If you are using extra large or jumbo size eggs then use your best judgment. Replace one medium egg with one jumbo, because it is hard to cut an egg in half. Roughly speaking, every 2 jumbo eggs equal 3 medium eggs in volume. For those trying to watch their cholesterol, replace each egg with 2 egg whites. They are usually less expensive than commercially available egg substitutes.

4. You will see Bacon Grease called for in a few of the recipes. Hillbillies traditionally cook with it for economy's sake. Essentially, bacon grease is the fat left in the pan after frying bacon. It is best stored in a clean tin can in the refrigerator. Every time bacon is cooked, pour any leftover grease into the can. It is used mostly for frying and seasoning. Bacon Fat lends a very special flavor to food that is hard to duplicate. If you are avoiding bacon grease for health reasons, then you may replace it with an equal amount of oil or margarine. The flavor will be slightly different, but otherwise, your results will be about the same.

5. Nutritional information is created with MasterCook 7. It is as accurate as I can make it, but there are no guarantees. Remember I am not a dietitian and I am fully mortal so there will be a few errors. Use it at your own risk.

6. I am not a professional, and this is not a professional website. I have all of the distractions of any active mom and I will make mistakes. I've done my best to eliminate all typo's and broken links, and to make the recipes as reliable as possible. For best results however, do not expect perfection.
Fair Use
You may download, print and copy all of the recipes and articles on this site for personal, non-profit, religious and educational purposes. You may not charge money for any thing you find here. Not even shipping and handling if you send a stack of recipes to your sister in Brazil. To share these items on message boards I prefer that you provide a link to the page you wish to share. If this is difficult or impossible then you may copy and paste an article or recipe instead. Be certain to provide a link back to this site or at the very least the web address (hillbillyhousewife.com) so that other people know the origins of the recipe and can visit me to find more.