Hush Puppies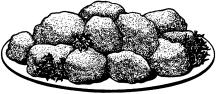 1 cup yellow cornmeal
1/2 cup flour
1 tablespoon sugar
1/2 teaspoon salt
1-1/2 teaspoons baking soda
2 tablespoons dry onion
1 medium egg
1 cup buttermilk or sour milk or yogurt (powdered buttermilk is fine)
In a medium sized mixing bowl combine the cornmeal, flour, sugar, salt, baking soda, and dry onion. When everything is well distributed, stir in the egg and buttermilk. Stir it up until everything is evenly moistened. The batter will be thick like muffin batter. Drop the batter by smallish spoonfuls into deep hot fat, about 375°. Try not to crowd the pan as you fry them. Turn when the underside is done, and continue frying until both sides are golden brown. Drain on paper towels and serve hot. These are traditionally served with fish, but they are good with casseroles too, and also with salmon loaf. This amount is enough for a family of 6.
Why are they called Hush Puppies? The way I've heard it goes like this…
In the old days, the kitchen was often located in a small side building detached from the main house (to reduce the chance of the main house going up in flames). Servents would carry plates and bows of food from the kitchen building to the main house. Of course the dogs roaming around would smell the food and demand their share by barking loudly. Cooks would cook up little fried balls of cornmeal batter and those would then be given to the dogs to "hush" them while the food made it's way to the main house. Thus the name "Hush Puppies"
Here's another popular bread recipe. This one is for oatmeal muffins. They are perfect for breakfast.
Disclosure: Some of the links below are affilate links, meaning, at no additional cost to you, I will earn a commission if you click through and make a purchase.