How To Make Iced Mocha At Home
With temperatures starting to climb, I'm ready to change things up in my coffee routine and this homemade iced mocha fits the bill perfectly. If you've been a reader and newsletter subscriber for some time, you know how much I love my coffee. While I still prefer black, hot coffee first thing in the morning, I'm ready for some sort of iced coffee by the time eleven o'clock rolls around.
If you've been wondering how to make iced mocha at home, this is the recipe to try. It's quick. It's easy. And chances are you already have most of the ingredients in your kitchen.
Iced Mocha Recipe
Ingredients
1/2 cup of whole milk
1/2 cup of extra-strong coffee
1-2 tbsp chocolate syrup
ice
whipped cream
Instructions
Fill a tall glass or mason jar with ice.
Add the chocolate syrup.
Add the milk and coffee and stir to mix everything well.
Top with whipped cream and an extra drizzle of chocolate syrup.
© 2023 Copyright www.HillbillyHousewife.com
If you like your iced mocha sweet, add sugar or your favorite sweetener to the coffee while it's hot.
For a stronger cup of iced mocha, freeze black coffee in ice cube trays and use instead of ice cubes.
Looking for more cold recipes after learning how to make iced mocha at home? I enjoy this
iced pumpkin spice latte
and then of course there's the always popular
magic milkshake recipe
. Give them both a try and let me know what you like best.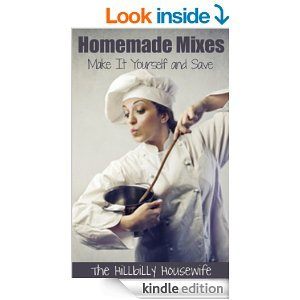 Making your own mix from scratch rather than buying it in the store not only saves you money but also saves you from all the additives and preservatives that are put in the foods we buy. The recipes include:
Apple Pie Spice Mix
Basic Muffin Mix
Brownie Mix
Caribbean Jerk Seasoning
Chocolate Chip Cookie Mix
Corn Bread Mix
Cream of Soup Mix
Fajita Seasoning
Fish Fry Coating Mix
Fruited Oatmeal Mix
Homemade Taco Seasoning Mix
Homemade Vanilla Chai Tea Mix
Disclosure: Some of the links below are affilate links, meaning, at no additional cost to you, I will earn a commission if you click through and make a purchase.