How to Make a Quick and Delicious Casserole in Your Crockpot
Most casserole dishes are made in the oven in a piece of bakeware made for creating casseroles. But did you know you can also make casseroles in your crockpot? Here is a simple and delicious recipe that I have been using for years! Quick and delicious casseroles in your crockpot will not only cut down on your time in the kitchen, but it will also help save you money in the process.
 Things You'll Need
6 thick slices of cooked ham
8 washed and sliced potatoes
1 white onion, thinly sliced
2 cups grated Cheddar cheese
2 cans cream of mushroom soup
Crock Pot
Instructions
Place two slices of ham on the bottom of the Crock Pot. Add a single layer of potatoes and a single layer of onions, and sprinkle with 1/2 cup of cheddar cheese.
Add another two slices of ham, a layer of potatoes, a layer of onions and another 1/2 cup of cheddar cheese.
Add the remaining ham, potatoes and onions to the Crock Pot.
Pour the soup over the top of the ingredients. Add the rest of the cheese.
Cover the Crock Pot. Cook on high heat for four hours or on low heat for seven hours.
For more delicious crockpot recipes get a copy of my Crockpot Cooking Made Simple cookbook here.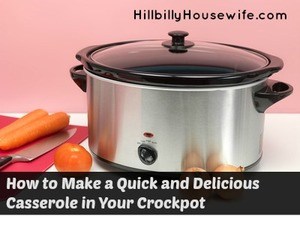 Disclosure: Some of the links below are affilate links, meaning, at no additional cost to you, I will earn a commission if you click through and make a purchase.