Hawaiian Chicken Recipe – Crockpot
This is the recipe that turned me into a crockpot fan. Before I tried this Hawaiian Chicken recipe, my crockpot was hanging out in the very back of one of my kitchen cabinets. I just didn't know what to do with it until I happened to come across this recipe. I can't remember if it was in a magazine, cookbook or online (probably not online since it's been quite some time). I used to make it quite a bit and it was always a big hit with my husband but somehow I had forgotten about it until it just popped in my head today and I mentioned it in the newsletter. Shortly after someone asked me if I could share the recipe. I dug through files and cookbooks and finally found my handwritten note with "Hawaiian Chicken Recipe – Crockpot" scribbled across the top…. so here it is:
Hawaiian Chicken – Crockpot Recipe
Prep time:
Cook time:
Total time:
Ingredients
2 pounds skinless boneless chicken breast halves
1 can pineapple chunks, drained
1 can mandarin oranges, drained
1/4 cup cornstarch
1/4 cup brown sugar, packed
2 tablespoons lemon juice
1/4 teaspoon ground ginger
Instructions
Cut the chicken into large bite-sized chunks. Put everything into your crockpot and stir it around until everything is mixed up. Cover it and cook on high for 3 hours or low for 5 to 6 hours.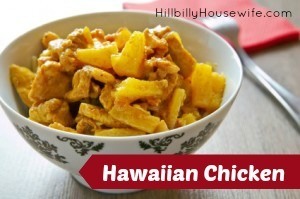 I like to serve this Hawaiian chicken over white rice. Fix a simple salad to add on the side and dinner is done.
Ready to learn more about crockpot cooking? Get my Crockpot Cooking Made Simple ebook today and find out how you can work this into your meal plan, how to choose a good crockpot and most importantly how to convert your favorite recipes to work in a slow cooker.
http://www.hillbillyhousewife.com/ebooks/crockpotcooking.htm
Disclosure: Some of the links below are affilate links, meaning, at no additional cost to you, I will earn a commission if you click through and make a purchase.