Ginger Muffin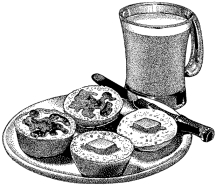 1 C boiling water
2 tsp baking soda
1 1/4 C whole wheat flour
1 1/4 C all purpose flour
2 tsp ginger
1 1/2 tsp cinnamon
1/2 tsp ground cloves
1/2 tsp nutmeg
1/2 tsp salt
2 tsp baking powder
1/4 canola oil
1/4 C light cream cheese
1/2 C brown sugar, firmly packed
1 egg
1/4 C molasses
Powdered sugar
Place the baking soda in a bowl.
Add the boiling water and stir until the baking soda is just dissolved.
Sift together the flours, ginger, cinnamon, cloves, nutmeg, salt and baking powder in a large bowl.
In a separate bowl place the canola, cream cheese and brown sugar.
Beat with an electric mixer on medium speed until well combined.
Place the mixer speed on low and slowly add the molasses while beating.
Add the baking soda paste and the flour mixture.
Beat on low until just combined.
Add the egg substitute and beat until all the ingredients are moistened through.
Preheat the oven to 350 degrees.
Prepare a muffin tin by spraying lightly with a non stick cooking spray.
Fill the muffin cups 2/3 full of the batter.
Bake 20 minutes or until the top of the muffins spring back when lightly touched.
Remove from the oven and sprinkle the tops of the hot muffins with powdered sugar.
Topping muffins with powdered sugar, cinnamon sugar, colored sugars or even regular sugar can give the muffins a sweet taste that appeal to children of all ages.
Here are some tips on how to freeze these muffins. It's a great way to make them ahead of time and then just reheat and server. Another great freezer muffin is this Ham and Cheese Muffin recipe. Perfect for lunch boxes.
Disclosure: Some of the links below are affilate links, meaning, at no additional cost to you, I will earn a commission if you click through and make a purchase.