Crockpot Country Steak
12 – pieces of cubed steak
2 – cans of beef broth
2 – cans of golden mushroom soup
1 – package of Lipton onion soup mix
Flour
Vegetable Oil
Salt, Pepper, and Garlic Powder to taste
Season steak and dredge meat in flour and brown in small amount of oil. Add 1 can of beef broth in the bottom of the crock-pot, then add ½ of the steak, next sprinkle ½ package of Lipton soup mix on the steak and add 1 can of mushroom soup on top. Place the remaining steak pieces on top and add the remaining ingredients in the mix as done in the first layer. Cook on low for 6-8 hours. Serve over noodles, rice or with mashed potatoes. This makes very thick gravy that is delicious over rice.
My late Aunt gave us this recipe and we don't know if it came out of a cookbook or if someone gave it to her. This recipe has been very popular at our family reunions and we rarely bring any back home. Thanks for giving me the opportunity to share it.
Debbie D.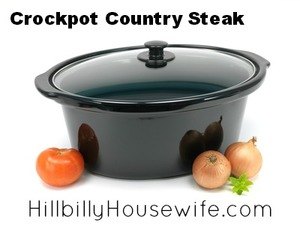 Ready for some more crockpot recipes from HBHW readers (and me of course)? Here's another one you might like – chicken cassoulet.
Ready to learn more about crockpot cooking? Get my Crockpot Cooking Made Simple ebook today and find out how you can work this into your meal plan, how to choose a good crockpot and most importantly how to convert your favorite recipes to work in a slow cooker.
Disclosure: Some of the links below are affilate links, meaning, at no additional cost to you, I will earn a commission if you click through and make a purchase.