Crockpot Cooking And Low-Glycemic Diets – You Just Need The Right Recipes
If you are on a low-glycemic diet, you may already be getting tired of snacking on low-fat cheese, a handful of nuts, and celery sticks.  Your family may be looking a little droopy as they sit down to yet another grilled chicken breast and steamed broccoli dinner.
You may also be starting to miss your favorite crock pot meals and would really love to come home, once again, to the savory aromas of a home-cooked crockpot dinner.
Do you have to give up your crockpot when you're eating a low-glycemic diet?  No siree!  Here are a few recipes that will help you stay on your diet and will fill your family's hungry tummies at the same time:
Asian Inspired Beef and Snow Peas
2 1/2 pounds round steak
1 cup soy sauce
2 teaspoons freshly grated ginger
2 cloves garlic, grated or minced
2 tablespoons cooking oil
2 cups snow peas
Cut a round steak into 4 equal pieces. Place the steak in your crockpot. In a separate bowl, whisk together next 4 ingredients and pour this mixture over the meat. Cover the crockpot and cook on Low for about 6 hours or until the meat is nice and tender. In last 15 minutes of cooking, mix in the snow peas. Serve over cooked rice.
Split Pea Soup with Ham
1 pound bag split peas
2 pounds cooked ham, diced
3 cloves garlic, minced or grated
1 medium yellow onion, diced
3 ribs celery, diced
1/8 teaspoon black pepper
7 cups fresh cold water
5 chicken bouillon cubes
Put all ingredients into your crockpot. Turn your crockpot on Low and cook for 6 to 7 hours. Lift the lid briefly through the cooking time several times and give a quick stir so the peas don't just stay on the bottom of the crockpot.
Triple Bean and Beef Chili
2 pounds lean ground beef
2 medium yellow onions, diced
1 green bell pepper, diced
2 ribs celery, diced
3 cloves garlic, minced
2 (16 ounce) cans diced tomatoes
2 (16 ounce) cans garbanzo beans
1 (16 ounce) can butter beans
1 (16 ounce) can black beans
1 (15 ounce) can chicken broth
3 teaspoons chili powder
1/2 teaspoon ground cumin
1 teaspoon black pepper
1 teaspoon salt
Brown ground beef, and drain any excess fat. Put all the ingredients into your crockpot and stir to combine. Cover the crockpot and let cook on Low for about 6 hours. I serve this in big bowls with a dollop of low fat yogurt and a sprinkle of chives. You can garnish with whatever your diet allows!
Trying to figure out what you can make in your crockpot that follows the rules of your diet can be a bit difficult.  I know if I have just a few go-to recipes for my crockpot that I can put together fast and easy, I'm more likely to stick to my diet.
Cooking dinner in your crockpot typically means you are cooking for the whole family, right?  These filling, nutritious, and delicious meals may be considered "diet dishes" but no one will be the wiser. These crockpot recipes may be just what you need to get on that diet and stick to it, without starving your poor family!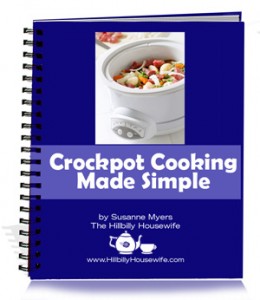 Want to learn more about how to use your crockpot to feed your hungry family easily, while saving money and time?
Get all the information, recipes, and tips you need with my Crockpot Cooking Made Simple ebook.
Click on here and buy it today to start saving money and time with your next meal!
Disclosure: Some of the links below are affilate links, meaning, at no additional cost to you, I will earn a commission if you click through and make a purchase.