Crepes
1 cup unbleached white or whole wheat flour
1/4 teaspoon salt
2 eggs
1 cup milk
Vegetable oil for frying
Crepes are a little bit tricky the first time you make them, but they become quite easy after a little practice. To start off, you need a small skillet. I use a 7-inch iron skillet. You can use a larger skillet if that is all you have available, but a small skillet makes them the traditional size. To prepare the batter, combine everything in a medium bowl and mix well with a whisk. You could also mix everything together in the blender if you liked. After mixing, allow the mixture to sit for a few minutes to relax the batter.
Heat about a teaspoon of oil in your small skillet. Swirl it around to cover the bottom of the pan. Scoop up about 3 or 4 tablespoons of batter into the pan. Tilt and jiggle the pan to cover the bottom completely with the crepe batter.
Cook for about a minute, until the bottom is browned. The top should be dry and a little puffy. Now you can flip the crepe and brown the other side if you like. I don't do this part though. I just take the crepe, browned on only one side, and place it in a nearby plate and go on to the next crepe. These are so thin that the top is always cooked through by the time the bottom is browned. Since crepes are rolled around a filling it is easy to keep the brown part on the outside, where it will be seen. The light colored side is next to the filling, so no one can tell you skipped a step.
Continue cooking the crepes until all of the batter is used. Roll the crepes around the desired filling and serve topped with a sauce of some sort.
For a quick snack, fill the crepes with strawberry preserves, and top with a drizzle of honey, or sweetened yogurt. Absolutely sublime, and good for an after school snack.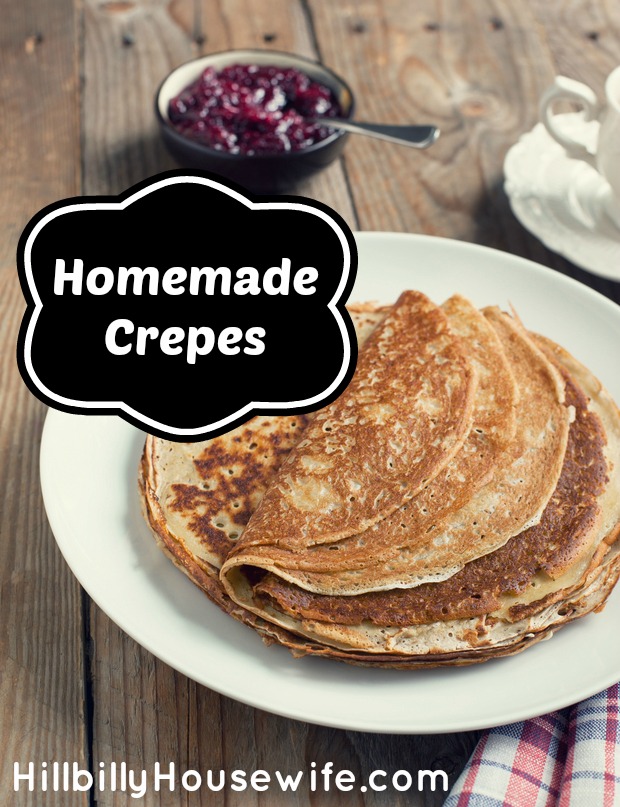 Now that you've mastered this frugal bread recipe, it's time to try something new like this Doodle Bug recipe. They are delicious potato pancakes.
Disclosure: Some of the links below are affilate links, meaning, at no additional cost to you, I will earn a commission if you click through and make a purchase.