Cornmeal Popovers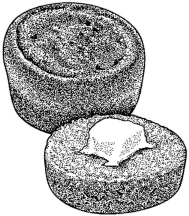 1 cup milk
2 medium eggs
2/3 cup flour
1/3 cup cornmeal
1 tablespoon sugar
1/2 teaspoon salt
First set your oven to 450°. Then get out a muffin tin. A heavy muffin tin is best (I use cast iron), but any kind will do. Oil or grease the muffin cups liberally. Put the pan into the oven to preheat while you prepare the batter.
In a medium sized bowl, beat together the milk and eggs. Use a whisk or electric beaters for the best results. Add the flour, cornmeal, sugar and salt. Beat very well, making a nice thick, smooth batter. Take the hot muffin tins out of the oven and distribute the batter evenly among the hot oiled cups. Be careful not to burn yourself. I use about 3 tablespoons of batter for each cup, pouring it in with a quarter cup measure, that isn't quite full of batter. Return the pan to the oven and cook for 15 minutes. The heat of the oven will puff up the batter nicely, making nice showy popovers. Then turn the oven down to 350° and cook for about 20 more minutes. Take the pan out of the oven and let it cool down for a few minutes. Remove the popovers from the muffin tin, and serve right away. These are good with creamed dishes, or with roast beef. Makes about a dozen.
Here's another frugal bread recipe that's quite impressive (and makes a great holiday gift) – Cranberry Bread.
Disclosure: Some of the links below are affilate links, meaning, at no additional cost to you, I will earn a commission if you click through and make a purchase.