Cornbread Muffin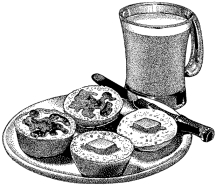 2 C white corn meal
1 tsp salt
2 C boiling water
2 C skim milk (reconstituted is fine)
4 egg whites or 2 eggs
4 tsp baking powder
1 T margarine, melted
Preheat the oven to 425 degrees.
Spray a muffin tin well with a non stick cooking spray.
Place the corn meal and salt in the large mixing bowl and blend together.
Pour the boiling water over the cornmeal and quickly stir until the corn meal is moistened well.
Add the milk and again stir quickly or the corn meal will ball up.
With an electric mixer on low speed, beat in the egg whites until mixed in well.
Add the baking powder and continue to beat for 1 minute.
Add the melted margarine and mix with a rubber spatula until incorporated into the mix well.
Pour each muffin cup 3/4 full of the batter.
Bake 20 minutes or until golden brown and a toothpick inserted in the center comes out clean.
These muffins set off a great pork roast or pork chop meal. And they turn a soup or stew into a filling meal. We also love them with any type of chili. Spread a little margarine on the top of each muffin before serving.
Here are some tips on how to freeze these muffins. It's a great way to make them ahead of time and then just reheat and server.
Looking for a healthy freezer muffin recipe? Bake up a batch of these bran muffins.
Disclosure: Some of the links below are affilate links, meaning, at no additional cost to you, I will earn a commission if you click through and make a purchase.