Cherry Muffin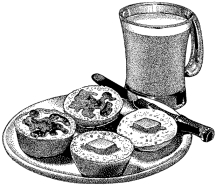 1 C sugar
1/2 C margarine
3 egg whites
1 1/4 C all purpose flour
1/2 C soy flour
1 tsp baking powder
1 tsp baking soda
1/4 tsp salt
1 T and 1 tsp almond extract
3/4 C skim milk
1 tsp vanilla
1 bag (3.5 oz) dried cherries
Place the sugar in a large mixing bowl.
Add the margarine and using an electric mixer beat on low speed until the ingredients are creamed together and fluffy.
Add the eggs and continue beating until the eggs are mixed in well.
Sift the flours, baking powder, baking soda and salt together in a large mixing bowl.
Place 1/3 of the dry mixture into the liquid mixture.
Add the almond extract and stir.
Place another 1/3 of the dry mixture into the liquid.
Add the skim milk and stir.
Add the last of the dry mixture to the liquid mixture.
Add the vanilla extract and stir until all the dry ingredients are moist.
Fold in the cherries.
Preheat oven to 375 degrees.
Spray a muffin tin with a non stick cooking spray.
Fill each muffin cup 2/3 full of batter.
Bake 22 minutes or until a toothpick inserted in the center comes out clean.
Save some time and work by using paper muffin cups when baking your muffins.
Here are some tips on how to freeze these muffins. It's a great way to make them ahead of time and then just reheat and server. Here's another one of my favorite freezer muffins. Try this cinnamon raisin muffin recipe.
Disclosure: Some of the links below are affilate links, meaning, at no additional cost to you, I will earn a commission if you click through and make a purchase.