Carrot Banana Bread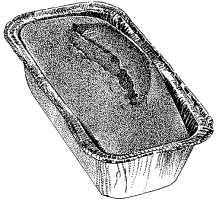 2 cups whole wheat flour
2 t cinnamon
2 t ginger
2 t aluminum free baking powder
1/2 t baking soda
1/2 t sea salt
2/3 c rapadura or sucanat
1/2 c coconut oil or melted butter
1 8 oz can crushed pineapple, drained with juice reserved
1/2 c carrot juice
1 t all natural vanilla extract
1 c carrots, finely grated
1/2 c raisins
1/2 c pecans, coarsely chopped (optional – may use walnuts)
Preheat oven to 350. Grease a loaf pan with olive oil cooking spray or butter.
Mix dry ingredients in a large bowl. In another bowl, mix sugar, oil, 1/4 c pineapple juice , carrot juice and vanilla. Then mix into dry ingredients. Add crushed pineapple, carrots, raisins, and nuts.
Pour batter into loaf pan and bake 60 minutes (for muffins, bake 20 minutes). Cool 5 minutes then turn onto wire rack to cool completely.
Thanks go Carrie for this wonderful recipe. Click here for more whole foods recipes.
Here is another simple bread recipe. This recipe for dinner rolls was submitted by a HBHW reader.
Disclosure: Some of the links below are affilate links, meaning, at no additional cost to you, I will earn a commission if you click through and make a purchase.