Buttery Bread Sticks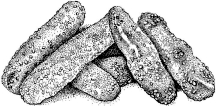 1/2 cup margarine (1 stick)
2 cups flour
2 tablespoons sugar
1 tablespoon baking powder
1 teaspoon salt
1/2 cup milk (approximately)
Place the margarine in a 9 by 13-inch rectangular pan. Put this into the oven at 425 F Leave the pan in the oven until the margarine melts. Meanwhile take out your favorite mixing bowl. In it combine the flour, sugar, baking powder and salt. Using a fork to stir, gradually mix in the milk. You may need a little more. Stir up the dough until it is cohesive, and forms a soft ball. Coat the ball with flour if it seems sticky. Rip off a sheet of waxed paper and pat or roll the dough out on top of the waxed paper. You should make a roughly rectangular shape which will fit into the hot pan.
Remove the hot pan from the oven when the margarine is melted. Gently place the large sheet of dough into the pan, overtop of the hot margarine. Be very careful not to burn yourself. Next use a pizza cutter or a sharp knife to cut the dough into thin strips. I cut it once down the middle too, but you don't have to do it that way. The margarine will ooze up between the sticks. This is supposed to happen. If desired, you may sprinkle the bread sticks with Parmesan cheese at this time. I seldom do, although it does taste good. Now bake the bread sticks at 425 F for about 15 to 20 minutes. They will bake up golden brown, crunchy on the outside and soft in the center. Good with spaghetti. You can sprinkle 1/2-teaspoon of dry garlic powder into the melted margarine before adding the dough to the pan if you like. This makes garlic bread sticks. The best part about this recipe is how quickly it cooks, not to mention the spectacular impact it makes at the table.
Cinnamon Dips: Combine 1/4-cup of sugar, and 1 teaspoon cinnamon. Sprinkle this liberally about the bread sticks right before baking. This makes a very nice and quick treat for the kids right after school. You could even let a couple of older children prepare this recipe themselves, especially when a good friend spends the night.
Here's another great bread recipe – Cornmeal Popovers.
Disclosure: Some of the links below are affilate links, meaning, at no additional cost to you, I will earn a commission if you click through and make a purchase.