Brandy's Dinner Rolls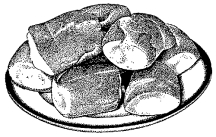 Prep time: 5 minutes
Cook time: 15 minutes
Makes: 5 rolls
Oven temperature: 350 degrees Fahrenheit
Price per batch: $0.35
Price per roll: $0.07
Dinner Rolls
1c all-purpose flour
1t baking powder
½ t salt
½ c milk
2T mayonnaise
Preheat oven to 350. Grease or put paper cups in a muffin tin. Mix ingredients in a bowl and spoon into muffin tin. Bake for 15 minutes or until puffed and browned.
I compared the price of this recipe to Pillsbury Buttermilk Biscuits – 36ct (frozen) from Sam's Club for $5.46 per bag.
My recipe costs approximately $2.52 for 36 rolls. That is a savings of $2.94.
All ingredients are priced from pre-packaged bulk ingredients from Sam's Club. All prices/ costs are approximate.
This recipe came from my family cookbook. I am not certain who in my family contributed the recipe, where they got it from, or how long it has been in my family cookbook.
If you have any questions about this recipe or are looking for more recipes please email me at mamakays@gmail.com. This is my business address for my at home bakery. Thank you!
Brandy R.
Here's another frugal bread recipe for you. This one is for homemade american indian fry bread.
Disclosure: Some of the links below are affilate links, meaning, at no additional cost to you, I will earn a commission if you click through and make a purchase.