My Best Banana Bread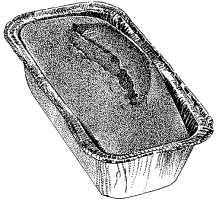 3 ripe bananas, mashed (about 1 cup)
1 cup sugar
1/4 cup melted margarine or corn oil
grated peel of one orange (optional)
3/4 cup orange juice
1/2 teaspoon salt
3 teaspoons baking powder(1 tablespoon)
2-1/2 cups unbleached white flour or whole wheat flour
1 cup chopped nuts (optional)
Use a whisk to mash the bananas in a big bowl. A fork would work too, but a whisk is my favorite. Try to get out most of the banana lumps. Add the sugar and margarine or oil. Mix every thing together until it is smooth and satiny.
Next, shred the orange peel with a cheese grater. Try to get mostly the orange colored peel and not too much of the white or cream colored part. The orange part, or zest, is very tasty, but the white part, or pith, is bitter. Put the orange peel into the bowl with the banana mixture. Squeeze the orange into a measuring cup. Add additional juice or water or milk to make up 3/4-cup. Pour this in with the banana mixture. Beat the batter until it is good and smooth. Next add the salt and baking powder. Mix them in and then add the flour. You may need to use a big spoon to mix the flour in, because the batter may be kind of stiff by now. Add a little more water or milk if you think you need it. Trust your own eye. Finally stir in the nuts if you're using them.
Turn the batter into a well oiled 9″ by 5″ loaf pan, or two 8″ by 4″ loaf pans. Bake at 350° for a whole hour. If you are using the smaller loaf pans, check it after 45 minutes. It cooks a little faster in the smaller pans. The loaf should be brown, crusty and fragrant when it is done. If you aren't sure, then jab a clean margarine knife down into the center of it. If the knife comes out clean, it is done. Remove from the pan(s) and cool.
To store it, double wrap it, first in plastic wrap, and then in tin foil. It freezes very well and makes a nice gift for unexpected guests.
This is my best recipe for banana bread. The citrus flavor adds a dimension that raises this recipe from ordinary to extraordinary.
Another one of my favorite homeamde bread recipes is this one for yeast rolls. They are great with sunday supper.
Disclosure: Some of the links below are affilate links, meaning, at no additional cost to you, I will earn a commission if you click through and make a purchase.