American Indian Fry-Bread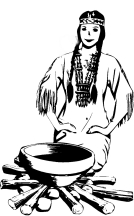 2 cups whole wheat flour or white flour, or 1 cup of each
1 teaspoon baking powder
1 teaspoon salt
1 tablespoon oil
3/4 cup tap water
vegetable oil for frying
In a large bowl combine the flour, baking powder and salt. Add the oil and tap water. Combine everything together and mix it with a fork or your hands. Dust the dough with flour if it seems sticky. Add a spoonful or two of more water if the mixture seems dry. Continue mixing until you have a cohesive ball of dough. Divide the dough into 6 pieces. Roll out each piece on a sheet of flour covered waxed paper or a clean piece of cotton fabric. Roll them out about the thickness of pie crust. They are pretty easy to manage with a rolling pin because of the baking powder and oil in the dough.
While you are rolling out the breads, heat about 1/2 an inch of oil in a large skillet. You want it to be 375° or almost smoking hot. Carefully slip a circle of dough into the hot oil. Gently press it down with a fork or a chopstick so it is submerged in the oil. The bread will bubble up impressively as it cooks. When the first side is browned, turn and brown the second side. Using tongs or chop sticks, remove the cooked bread from the oil and place it on paper towels or a brown paper bag to drain. Continue frying and rolling out the dough until all your fry-breads are cooked. Serve hot with bean dishes. If you want something sweet, you may sprinkle the cooked bread with sugar and a dash of cinnamon. This is a great snack on cold winter days. Makes 6 fry-breads.
Here's another good homemade bread recipe. It's a beginners bread recipe that allows anyone to make a delicious loaf of homemade bread.
Disclosure: Some of the links below are affilate links, meaning, at no additional cost to you, I will earn a commission if you click through and make a purchase.