Advent Calendar Day 9 – Homemade Convenience Foods
Let's talk about convenience today. Compared to even a few short years ago, my life around the Holidays has gotten so much more convenient. I'm able to order gifts and have them shipped to my door. We can watch a huge library of Holiday movies whenever we choose without having to drive to the video store (remember those?).
Yesterday I became aware of one more huge convenience – No more waiting in line at the post office.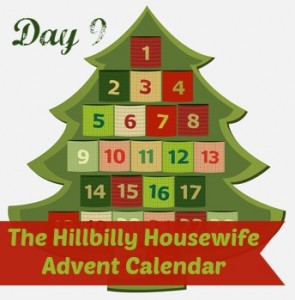 That one is HUGE for me. I have family in Europe and we have relatives and friends scattered around the US. In the past I've made several trips to the post office in December, spending countless hours waiting in line. Not so this year. Yesterday I walked into the post office to pick up a couple of priority mail boxes. Did you know that they have cute holiday themed ones this year? I saw the long line on my way out. Boy am I glad I don't have to worry about standing in that line this year. Instead, I'm going to pack up my boxes, print my shipping labels, pay for them online and have my mail carrier come pick them up. How much easier is that?
Ready for more conveniences? How about some convenience foods for your kitchen. Stock your pantry with these mixes and foods and you can whip up a meal in no time at all.
Use the coupon code "ADVENT" to get the cookbook at half-price.
Make even more convenience foods right at home! You'll save money, control ingredients, and avoid expensive "fast foods" when you start making your own favorite convenience foods. Click on here to find out about our informative resource Homemade Convenience Foods – and dig into over 200 recipes for handy convenience foods you can make at home.

Eliminate those prepackaged foods from your pantry, eat healthier and cheaper while still cooking fast. Order your copy today!
 Don't forget to use coupon code "ADVENT" 
 http://www.hillbillyhousewife.com/ebooks/conveniencefood.htm
Disclosure: Some of the links below are affilate links, meaning, at no additional cost to you, I will earn a commission if you click through and make a purchase.