Award Winning Chili – Crockpot
1 lb ground beef
1 lb hot sausage (like Jimmy Dean)
1 tbsp cooking oil
1 medium yellow onion, diced
3 stalks of celery, diced
1 green bell pepper, diced
1 red bell pepper , diced
2 garlic cloves, minced
2 Tbsp cayenne
2 Tbsp chili powder
1 Tbsp ground paprika
1/2 Tbsp salt
1/2 Tbsp black pepper
1 tsp ground cumin
1 bay leaf
1 tbsp Worcestershire sauce
1 tsp vinegar
2 tbsp brown sugar
1 small can of tomato paste
2 (15 oz) can diced tomatoes
2 cans (15 oz) kidney beans, drained and rinsed
Brown the ground beef and sausage in the oil in large skillet, then put in crockpot.  In same skillet with meat drippings,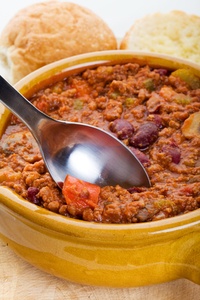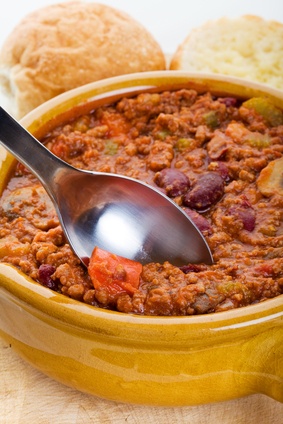 lightly saute all the vegetables, then add to crockpot.  Add all the spices to the ingredients in crockpot and stir.  In separate bowl, mix together the next 5 ingredients (Worcestershire, vinegar, brown sugar, tomato paste, and diced tomatoes).  Then pour into crockpot and stir to combine.  Cover and set crockpot temperature on Low. Cook for 7 to 8 hours (or more is fine).  During the last 30 minutes, stir in kidney beans and continue on Low.
Serve in bowls along with toppings like chopped green onions, shredded cheese, sour cream, black olives, crushed corn chips, etc.
Ready to learn more about crockpot cooking? Get my Crockpot Cooking Made Simple ebook today and find out how you can work your crockpot into your meal plan, how to choose a good crockpot, and even how to convert your favorite recipes to work in a slow cooker.

Click on and order your copy of Crockpot Cooking Made Simple today!

http://www.hillbillyhousewife.com/ebooks/crockpotcooking.htm