Yum Yum Cookies
I am looking for a bar cookie recipe called yum-yums. The main ingredients included brown sugar, egg, vanilla, flour and walnuts. After it cooks, a mixture of cream and powdered sugar is spread over the cooked recipe and then is covered in coconut. Lost this time honored recipe.

Can anyone help?

Gail
Do you have a suggestion or recipe for Gail? Please share it in the comments below.
From the Hillbilly Housewife 
I found some cookie bars that are also called Yum Yum Cookie Bars. Not sure if this is similar to the one you're looking for. Maybe HBHW readers have some other suggestions for you. Either way, these are very yummy and definitely worth making.
Yum Yum Cookies
Ingredients
2 sticks butter
3 eggs
Yellow cake mix
1 pkg. cream cheese
6 oz. chocolate chips
1 pkg. coconut
1 c. powdered sugar
1 tsp. vanilla
Instructions
Mix 1 stick butter 1 egg and cake mix together and press into pan.
Mix together cream cheese, 1 stick butter, chocolate chips, coconut, powdered sugar, 2 eggs and vanilla.
Pour on top and bake at 350 degrees for 30 minutes.
Let cool then cut into squares.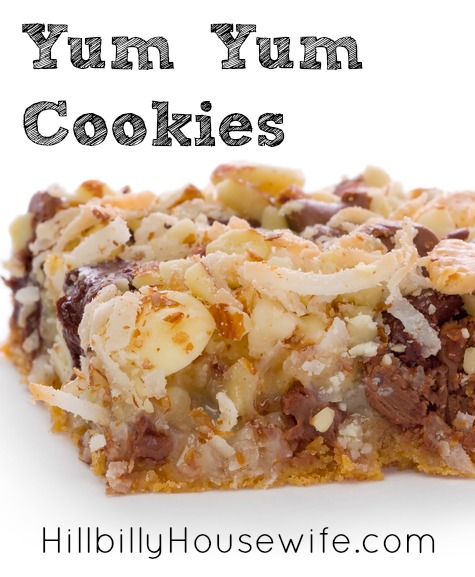 Disclosure: Some of the links below are affilate links, meaning, at no additional cost to you, I will earn a commission if you click through and make a purchase.