Yard Sale Tips
Yard sales are a quick and easy way to earn some extra money and get rid of some clutter from your home in the process. I have put together some great yard sale tips from my experience as the seller.
The best time to hold a yard sale are the first and third weekends of the month. Most families get paid on the 1st and 15th of every month and that is when they tend to do most of their shopping. Never hold a yard sale on a holiday weekend (unless that is part of a tradition of a holiday weekend). Your customers will be few and far between.

Be sure and advertise in the paper. Be descriptive and list high dollar items in your ad that will grab the attention of the shoppers. Also note if your sale will be held rain or shine. If a sale does not say that, I tend to skip it especially if it is starting to rain.
If your home is hard to find, make sure you use lots of signs directing them to find you. If customers can't find your street, then they are more likely to skip your sale this time and any other times you choose to have one.
Go through your home and get honest with yourself about items. Do you use it? How often? If an item has sat for a month in my home without anyone thinking about it or using it, I will usually throw it in the yard sale and get it out of my home.
The key to a great yard sale is organization. Be sure and organize all your items by category—toys, books, linens, clothing, tools, fishing equipment, etc. The more organized and functional your yard sale is, the better return you will have!
Price items appropriately. Don't just throw things on a table with no price sticker. Customers do not like to ask every time, "How much is this?". Use the pre-printed stickers that you can get at the dollar store or you can do like my mom always did and use a roll of masking tape and a marker. Whatever way you choose, make sure that your customers can see the price stickers on your merchandise.
Set up as much as you can the night before. Cover your tables with sheets to keep the dew off of them or place them on a porch to move out the next the morning. Be sure and leave the more expensive items inside your home and bring them out the next morning. Place your tables strategically so that customers can maneuver around them easily.
Organize your clothing section by person and size. A momma looking for baby clothes will not want o have to sort through adult men's shirts to find what she is looking for and vice versa. Remember to categorize and group like things together.
Have a free box available and place extremely small stuffed animals and very inexpensive items (think nickel or dime items you want to get rid of now) in this box. Kids love to go through the free box looking for that perfect toy!
Be sure and start your sale with plenty of change. Don't assume that everyone will have small bills. I have been hit in the past with a hundred dollar bill as my first customer. My rule of thumb is to always start with $100 worth of change—2 twenty dollar bills, $30 in five dollar bills, $15 in ones, $10 in quarters, $2 in nickels, $2 in dimes, and $1 in pennies.
During the last hour of your sale, hold a half-off hour or fill a bag for a certain price sale. This will help you move your merchandise quickly. Whatever else is left, you can donate to the local thrift store. Be sure and get your donation slip because you can use that to take off on your taxes at the end of the year.
I hope that these yard sale tips will help you hold the most successful sale you have ever had!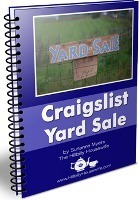 p.s.  Perhaps a physical yard sale is not something you are prepared to do right now.  If not, maybe an online yard sale would be more to your liking.  But, how do you go about arranging a yard sale online?
Discover the joys of holding a yard sale online with my new ebook Craigslist Yard Sale.
This guide gives you everything you need to know so you can avoid all the headaches of a traditional yard sale. You'll find the tools to help you plan your sale in the right way – whether you're selling one item or one hundred.
Here's a glimpse of what you'll learn in this comprehensive guide:
How to sign up for a Craigslist account and create your first listing.
Where to find all sorts of treasures that you can sell on Craigslist.
Important safety tips to keep yourself and your loved ones safe while selling online.
Learn about some great tips to improve your listings, picking the right price and placing it in the category that will get you the best results.
How to tweak your listings to sell items fast and for a good price.
Along with this you'll get these two bonuses absolutely free:
Bonus #1 – Home Inventory Checklists
Bonus #2 – Ebay Shopping Guide
Click on and order now to learn how you can turn your clutter into cash the easy way – on Craigslist.
Disclosure: Some of the links below are affilate links, meaning, at no additional cost to you, I will earn a commission if you click through and make a purchase.