Yard Sale Price Guide
You have decided to have a yard sale. You've been through all the rooms in your home, collected your items, placed them in piles for pricing, so now all you have to do is start tagging them. How much should you charge? In this article, I have put together a yard sale price guide to help you charge a fair amount for your items. By pricing them strategically, you will be assuring to have repeat customers in the future!
Let's take a look at some of the most common items:

Books: paperbacks: 25 cents or 5/$1.00, hardcover books: 75 cents or 2/$1.00, reference, educational, hardcover dictionaries, thesaurus, etc.: $1 to $2
Media: CDs, VHS video tapes: $1, DVDs (recent): $3 to $5, Blue-Ray: $6-$8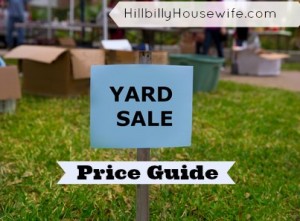 Housewares: dishes, glassware: 25 to 50 cents a piece, larger items (like casserole dishes) $1-$2, dish sets anywhere from $2 to $5, blankets, sheet sets, quilts, comforters, and curtains: $2 to $5, plastic containers (food and storage): 25 cents to $1, lamps: $5 and up if they're nice, $1 or $2 if they're cheaper versions, framed wall pictures and mirrors: $2 and up, kitchen electronics (slow cookers, coffee pots, tea kettles, gadgets): $2 to $5, freezers: $25 to $50, kitchen stove, refrigerator, or dishwasher: depends on how old they are, chances are they're at least 10 yrs old: $25 to $75; five years or newer can be sold for $100-$150
Electronics: DVD players: $20, CD players: $10, VCRs: $5 to $10, combo sets: $30, old TVs: $10 to $25, up to $40 depending on how old it is. If it's in good shape and fairly new (up to 5 years old) and with a remote, I've been able to sell it for $75 to $100, video gaming systems (depends on how new it is–$5-$35 high end), video games–$1-$6
Furniture: bookcases, desks & shelving–If it's real wood and in good shape: $10 up to $25. For fake material such as particle board or composite wood: $5, sofas, chairs: $30 to $100, coffee tables, end tables: $10 to $25, kitchen table and chairs: $20 to $50
Toys: bikes: depending on the style–really old ones: $5. newer models: $25 to $75 (depends how expensive that type of bike is new), toys and stuffed animals: 25 cents to $3 (high end for really nice and fairly new toys), board games (complete): $1 to $3, puzzles (complete): 50 cents to a $1
Men Items: BBQs (propane, good condition): $15 to $25, up to $40 if it's fairly new and in excellent shape, charcoal BBQ Grills $5, lawn mowers: $10 to $25 (depends how old/new it is–you could go higher if it's a newer mower)
Clothing: baby clothes– the price depends entirely upon condition and brand. If it's from baby gap or Gymboree and has a tag on it, $5.00 and up should be reasonable. If there is no tag or it's been worn than $3.00 or less is more appealing. If there are stains or damaged clothing it can be thrown in a donation/free box which will entice other purchases, Plain tee shirts -.25-50 cents, Brand name polos or trendy brands – $3-$5, plain blue jeans – $1.00, brand name jeans – $3.00, fleeces, jackets, coats, and other winter gear – $4.00, dresses & skirts – $2-$5, items with tags still attached – $10.00 or 70% of original retail price whichever is more reasonable, pocketbook and purses – depending on brand name $3-$50, ties – $1.00 or bulk deals such as 10 for $6.00, shoes–$3-$5
If you are unsure about an item, try looking high dollar items up on Craiglist and seeing what they are going for and price yours accordingly. What you don't sell at your yard sale, try posting the items on Craiglist and see if you can sell it that way. Always remember, what is one man's junk is another man's treasure!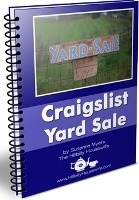 p.s. If the thought of  hauling tons of stuff out to your front lawn, then sitting out there in the hot sun for hours, and hours, and hours, isn't very appealing to you, perhaps you should rethink that traditional yard sale.
Maybe it's time to discover the joys of holding a yard sale online with my new ebook Craigslist Yard Sale.
This guide gives you everything you need to know so you can avoid all the headaches of a traditional yard sale. You'll find the tools to help you plan your sale in the right way – whether you're selling one item or one hundred.
Here's a glimpse of what you'll learn in this comprehensive guide:
How to sign up for a Craigslist account and create your first listing.
Where to find all sorts of treasures that you can sell on Craigslist.
Important safety tips to keep yourself and your loved ones safe while selling online.
Learn about some great tips to improve your listings, picking the right price and placing it in the category that will get you the best results.
How to tweak your listings to sell items fast and for a good price.
Along with this you'll get these two bonuses absolutely free:
Bonus #1 – Home Inventory Checklists
Bonus #2 – Ebay Shopping Guide
Click on and order now to learn how you can turn your clutter into cash the easy way – on Craigslist.
Disclosure: Some of the links below are affilate links, meaning, at no additional cost to you, I will earn a commission if you click through and make a purchase.