Whole Wheat Chocolate Chip Cookies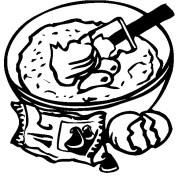 1 cup margarine, softened (2 sticks)
1-1/2 cups brown sugar
1/2 teaspoon salt
1 teaspoon baking soda
1 teaspoon vanilla extract
2 large eggs
2-1/4 cups whole wheat flour
1 cup chocolate or carob chips
These cookies are healthier than most because of the whole wheat flour. They taste really good too. If you are going to a scout meeting, or church potluck where the parents are really uptight about food and nutrition, than bring a long a batch of these cookies, and listen to their praise.
Start off by finding your trusty big bowl. My favorite bowl is red plastic, easy to clean, and just the right size for most of my mixing needs. Place the margarine into the bowl. If need be, soften it in the microwave for a few seconds. Add the sugar, and cream it together with the margarine until it is smooth and fluffy. Stir in the salt, baking soda, and vanilla. Add the eggs. Beat the mixture until the eggs are well incorporated, and the batter is fluffy, shiny and satiny. Now stir in the whole wheat flour. When it is smooth and thick, add the chocolate chips. Stir and stir until they are evenly distributed through out the dough.
Drop the dough by tablespoonfuls onto an ungreased cookie sheet. I usually use a pizza pan instead, but cookie sheets are traditional. Bake at 350° for about 12 minutes. Allow to cool for a minute or two before prying them up from the cookie sheet with a spatula. I lay them on a clean dish towel to cool before packing them away in the cookie jar or into a container for transport. This recipe makes about 3 dozen.
Variations:
Carob, Cranberry, Almond Cookies: Use 1 cup of carob chips, and add 1 cup of dried cranberries and 1 cup of chopped almonds. Proceed as directed. The sweetness of the carob, the piquancy of the cranberries and the crunch of the almonds makes the perfect combination. These could probably be sold for big bucks. Very good!
Disclosure: Some of the links below are affilate links, meaning, at no additional cost to you, I will earn a commission if you click through and make a purchase.