What Is The Origin Of Father's Day?
While there are several renditions relating to the origin of Father's Day, the most widely held version is this:
Father's Day originated with a young girl named Sonora Louise Smart, who lived in Spokane, Washington. Apparently, after listening to a Mother's Day sermon in 1909, she wondered why fathers weren't celebrated as well. At 16, Sonora lost her mother and her dad, a civil war veteran, raised Sonora and her five siblings.
Determined to have Father's Day recognized as a special day and working hard so that would happen, Sonora finally witnessed the first Father's Day celebration on June 19, 1910. Subsequently, the idea gained popularity all over the US and thus Father's Day became a national day of celebration.
In fact, President Woodrow Wilson, noticing the depth to which this day became so popular, approved the idea in 1916. Furthermore, it was President Calvin Coolidge who proclaimed Father's Day as a national celebration in 1924. In 1966 President Lyndon Johnson signed a presidential proclamation stating the third Sunday in June would be officially declared Father's Day. Then in 1972 President Richard Nixon permanently established the observance of Father's Day.
What happened to the young girl who started it all? Happily, Sonora Smart Dodd was honored at the World's Fair in Spokane in 1974 for her contribution in making Father's Day a national day of recognition.
Today, Father's Day is celebrated around the world; however, not all countries celebrate it on the same day. Australia and New Zealand, for example, celebrate Father's Day on the first Sunday of September.
Celebrating our fathers was a little idea that grew with the determination of one person, Sonora Louise Smart, a daughter who was proud of her father.  Now we also take a day each year to recognize the man or men in our lives that have helped raise us and protect us.  Make this Father's Day a special day for someone you love.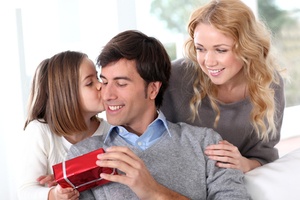 Disclosure: Some of the links below are affilate links, meaning, at no additional cost to you, I will earn a commission if you click through and make a purchase.