Weekend Brunch Casserole
We're having some friends over this coming weekend who will be spending the night. That means Sunday breakfast together. I'm planning on making one of my favorite dishes. It's easy to put together and bake up and feeds a crowd. If you love a nice hardy breakfast with veggies, bacon, eggs and English muffins, give this a try.
Tip – If you're not a big fan of mushrooms, replace them with different veggies like diced bell peppers, onion or any leftover veggies.
| | | |
| --- | --- | --- |
| English Muffin Breakfast Casserole | | |
Ingredients
1 cup mushrooms, sliced
10 bacon strips, diced
1/2 cup onions, sliced
1/4 cup flour
1/4 cup butter, cubed
1/4 teaspoon pepper
1/4 teaspoon salt
2 cups milk
6 ounces cheddar cheese, shredded
1/2 cup milk
8 eggs
1/4 teaspoon salt
1/2 teaspoon pepper
2 tablespoons parsley (fresh), minced
4 English muffins, split, toasted and lightly buttered
Instructions
Cook the bacon in a large skillet until crisp. Remove the bacon from the skilled, set aside and remove all but 2 tablespoons of the drippings. Sauté the onions and mushrooms in the bacon drippings until tender and then set aside.
Melt the butter in a saucepan. Once the butter is melted stir in the pepper, salt and flour until smooth; cook until bubbly. Slowly stir in the cheese and milk, cooking and stirring until thickened. Now add in the onions, mushrooms and bacon. Remove from the heat set aside.
For the scrambled eggs, beat the milk, eggs, salt and pepper and pour into a greased skillet. Stirring frequently cook until the eggs have set. Remove from the heat and set aside.
Take the English muffin halves and cut them in half. Place in a greased 11×7 inch baking dish. Cover with part of the cheese sauce (half of it). Take the eggs and spoon over the top of this and then top with the remaining sauce. Sprinkle with fresh parsley.
Keep the baking dish uncovered and bake for 30 minutes at 325 degrees.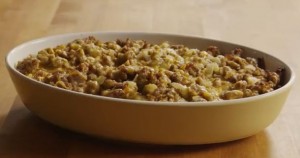 For more delicious breakfast casserole recipes, get a copy of my latest Kindle book. Inside you'll find 35 recipes your family will love including:
Ham, Hash Brown and Cheese Breakfast Casserole
Sausage Breakfast Casserole
French Toast Breakfast Casserole
Sugar Free French Toast Breakfast Casserole
French Toast Breakfast Casserole – Syrup on the Bottom Version
Apples and Raisins French Toast Breakfast Casserole
Peach French Toast Breakfast Casserole
Sunday Morning Breakfast Casserole
Cheese Grits Breakfast Casserole
Spinach and Cheese Breakfast Casserole
All-in-One Breakfast Casserole
What a perfect way to start your morning. Get Breakfast Casseroles – 35 Recipes for Everyday & Special Occasions today.
Disclosure: Some of the links below are affilate links, meaning, at no additional cost to you, I will earn a commission if you click through and make a purchase.