Weekday Cookie Recipes – 99 Cents on Amazon Today
Good Morning and Happy Friday!
The "Weekday Cookie Recipes" Kindle cookbook is only 99 cents on Amazon today. Grab a copy at
www.HillbillyHousewife.com/cookiebook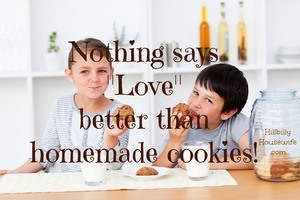 Cookies are good any day of the week. But sometimes it takes too long to throw a batch together during the weekday. That's where these cookie recipes come in handy – they're quick, easy, and some only require two ingredients.
Here are some of the cookie recipes you'll find inside: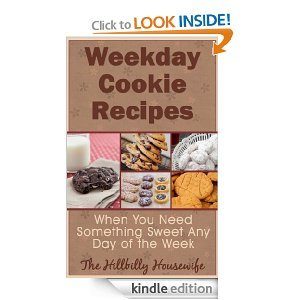 Chocolate Chip Weekday Cookies
Peanut Butter Weekday Cookies
Oatmeal and Cranberry Spice Cookies
Coconut Cookies
Cinnamon Roll Cookies
Flourless Chocolate Nut Cookies
Marshmallow Cookies
Nutella Cookies
Chocolate Puddle Cookies
4 Ingredient Weekday Cookies
Everyday Cookies
Oatmeal Lemon Cookies
Colored Pinwheel Cookies
Jell-o Cookies
Whopper Cookies
Butterfinger Cookies
Whole Wheat Chocolate Chip Cookies
No Bake Cookies
Molasses Cookies
Date Cookies
No Bake Candy Cookies
Easy Sugar Cookies With Chocolate
Walnut Maple Cookies
Healthy Banana Weekday Cookies
Chocolate Crackle Cookies
Orange Juice Cookies
Fudge Crinkle Cookies
Fat Free Chocolate Cookies
Easy 3 Ingredient Cookies
Cream Cheese Cookies
Thumbprint Cookies
Easy Snickerdoodle Cookies
Pumpkin Cookies
Gluten Free Weekday Cookies
Disclosure: Some of the links below are affilate links, meaning, at no additional cost to you, I will earn a commission if you click through and make a purchase.