Virtual Cookie Exchange

Welcome to the first annual Christmas Cookie Exchange.
I had a great time setting this up with my good friends Bridgett from http://www.SpectacularEats.com , Tracy from http://www.MomsInABlog.com and Loretta from http://www.JustNotMartha.com and would love for you to join us as well.
We asked bloggers and website owners to share their favorite cookie recipe with us. Below you will find all of the participants along with some information about them and a link to their cookie recipe.
We are also working on getting all these yummy recipes into one pdf report that you can download. We will post it here as soon as it is ready. Be sure to also sign up for the Hillbilly Housewife Newsletter and sign up for Spectacular Eats at http://www.SpectacularEats.com (you'll also receive a free Christmas week meal plan there), so we can also email it to you as soon as it is ready.
Let's get to the cookies… Below you will find links to all the recipes. Enjoy!
Bridgett shares her Chocolate Thumb Print cookie recipe.
I am a lover of all things food – from cooking it, to reading about it, to styling it to eating it!  I am a fulltime food blogger and also dabble in website design.  I have two college-age children and have been married to my sweetheart for over 20 years. I blog at http://www.spectaculareats.com and my web design site is www.InspiredDesignStudio.com
Lorretta shares her recipe for Nut Horns.
Tracy Roberts sharesfour different Christmas Cookies. They are Maple-Walnut Shortbread, Pecan Snowballs, Magic Cookie Bars and Triple Chocolate Cookies.
Owner of Moms In A Blog, Tracy Roberts is a 40-something mother of four, living in Central Florida with her husband, Jeff and an English Bulldog. In addition to her duties here at Moms In A Blog, Tracy helps online business owners get exposure for their business and provides services for Affiliate Programs at Easy Affiliate Toolbox
Christine Steendahl  shares her recipes for Almond Bars and Lemon Drop Cookies.
Christine Steendahl, "The Menu Mom" is a family menu planning expert!  Be sure to check out her menu planning service (with a free sample menu) at www.dinewithoutwhine.com and www.MenuPlanningCentral.com
Patti Winker shares her recipe for Aunt Bab's Tiny Green Wreaths.
Can you have fun and get wrinkly at the same time?  You sure can!  Swing by RemarkableWrinklies.com to explore the feelings and fun of reaching that "wrinklies" age, while getting no-nonsense, practical advice for staying sane and feeling healthier than you have in ages. I hope you'll take time to visit RemarkableWrinklies.com and share this crazy journey with me!
Wendy Wood shares her recipe for Chocolate Goobers.
Wendy Wood is the owner of Mommies Magazine.com, an online website geared to mommies of all ages. Wendy, and her panel of experts, share information on topics from Current Fashion Do's and Don'ts and Parenting Teens, to Menu Planning and Health-Related Topics that covers all ages of family individuals. Can't wait to learn more? Visit http://MommiesMagazine.com
Staci Jansma Shares her recipe for Basic Spritz Cookie.
Staci is an internet entrepreneur focusing on helping others by providing assistance virtually. She delivers excellent service in proofreading articles, article and press release marketing, search engine optimization, shopping carts, affiliate programs, autoresponders, blogging, and creative projects. Staci is always eager to tackle a project. Staci is Your Online 24/7 Virtual Assistant ready to help when needed. She welcomes you to join her blog to learn what she has discovered about various online systems and how you can market your business. Check out Staci's blog today.
Joice Barrett shares her recipe for Norwegian Fatigman.
I am married to Slobokan, Homeschooling mom to three terrific boys and two ornery dogs, all of whom love hiking,birding, and photography. In my spare time, I'm an artist, Unix and Pick coder, seamstress, printmaker, knitter, crocheter, and owner of Buttercup 149… and yes, occasionally we do get to sleep. So, HEY to all ya'll out there from us folks in Georgia.
Debbie aka GrannyNKy shares her recipe for Cowboy Cookies.
I am Granny to 12 adorable little munchkins and I do live in a Kentucky Holler. I also am virtual Granny to several in the digital scrapbooking community.  I became addicted to digi-scrapping about 2003 and have since created thousands of pages and projects.  I currently serve on several CT Teams and I do offer scrapping-4-hire.  Please visit my blog "Notes From The Holler" for more information.
Cara Riggles shares her recipe for Dirty Thumb Cookies.
Check out my new blog, The Friendly Frugalista, for timely information related to coupons, discounts, freebies, special offers, sweepstakes, and more. Many of the posts are directly related to homeschooling, while others are applicable to a broader audience.
Paula Wethington shares her recipe for her Christmas Coffee Mix.
Monroe on a Budget is a frugal living blog hosted by Paula Wethington of Monroe, Mich.
Mimi Carn shares her recipe for Fudgie Buddies.
I'm the most boring blogger in the world, just a plain mom.  Not much to write home about.
Karen shares her recipe for Almond Delights.
I am a Christian wife and homeschooling mom. A keeper of the home–lover of all things country and things of the past. Enjoying a quiet, simple life with my family. I can be found at my blog, Homespun Simplicity,
http://homespunsimplicity.blogspot.com/
Di shares her recipe for Mini Fruitcake Cookies.
Visit Living in Woodbridge VA for things to do and places to go in that beautiful area of the country.
Annastasia McPherson shares her recipe for Chocolate Chip Peppermint Cookies.
I am a Military wife and a mom to 3 wonderful children. We are living overseas, and are struggling to live natural, frugal, and vegan! This blog is about my adventures trying to attain that.  I hope to teach others about my "healthy" (or as some of my friends call it "Granola") living and maybe make a difference in their lives as well.  Our entire family is vegan, and I love to cook!!  I use natural cleaners, and natural home remedies whenever available.
Debbie  (a.k.a. Coffee Mom) shares her recipe for Monster Cookies.
Hi I'm Debbie (aka CoffeeMom).  I'm a Christian stay at home wife and mom.  If I'm not busy chasing my 4 yr old and 2 yr old daughters around, painting fingernails or having Princess tea parties, you can find me blogging at Mommies Coffee Break (http://mommiescoffeebreak. com) or The Queen Mommys Cafe (http://thequeenmommy.com), where I write about Faith, Love, Life, and Motherhood.
Mary Blackburn shares her recipe for Gluten Free Mock Thin Mints.
Hi!  I'm Mary Blackburn, author of EasyGlutenFreeLiving.  In case you are wondering what gives me the right to write about gluten free living, I have been Gluten Free for over 20 years. I was diagnosed with Celiac Disease back in 1987 when my daughter was in 3rd grade.  That was back in the early days of diagnosis, and there really wasn't much information for me at that time. Over the years I have come up with Gluten Free versions of some of my old favorite foods.  This cookie recipe is one of those recipes.My hope is that with my website I can help to educate people about Celiac Disease and offer helpful information and recipes.
Monique McDonell shares her recipe for Nanna's Vanilla Kiperls
My site – The Art of Romance – is home to an interactive romance novel as well as my ramblings on writing and life. I am based in Sydney, Australia and in between my writing and ramblings am an avid cook.
Marilyn Jaegly shares her recipe for Dorothy's Apricot Slovak Cookies

My site is a money saving site, I talk about couponing, food, weight loss, budgeting and life in general.
Amanda shares her recipe for Sour Cream Sugar Cookies.
Amanda is operator of yahoo/face book groups Dustless Cookbook where gleamed, begged, borrowed,~ I would say bullied, but no one is ever bullied- bribed yes~ recipes are stored along with original on the fly out of the air creations assuming they are worthy to make the repeat offender list.At Dustless Cookbook we are always on the look out to find something to bring out the foodie in everybody.
Liz Latham shares her recipe for whoppie pies.
I'm Liz and I blog over at Hoosier Homemade. I share lots of great recipes, home decorating ideas and frugal living.
Brenda shares her recipe for Date and Nut Pinwheel Cookies.
My name is Brenda and This was always my favorite cookie and is now a favorite of my families it was my great grandmothers and it belonged to her mother. So it has been around a long time. When she could no longer make these her self she passed the recipe on.She passed on a few years ago at age 98.   I get requests every year for the recipe. And thought maybe someone out there might be interested in trying it also. Brenda blogs at Trying To Keep It Simple.
Janet Marie Huff shares her recipe for her Mint Meltaways.
My name is Janet Marie Huff.  My first love/passion  is being a wife and a mom.  I like to write cookbooks, learn, do research, and I also truly love to teach.  I'm  an instructor for continuing ed. at two universities in  our area.  Using whole grains/basic foods, and helping  others learn how to do so, is a joy for me.   My sites: dollaradaymeals.com and eatwheat.com
Susan Williams shares her recipe for No Bake Festive Cookie Wreaths.
Susan R. Blaske Williams is the author of "Making It Home: How to Run Your Household Like a Business… And Find Your Heart Along the Way." Susan lives in the north Georgia mountains with her beloved husband and family pets. She is a mother of four, grandmother, former home school teacher and owner of three successful home-based businesses and enjoys writing articles about home, family and business – and how to successfully combine all three. Visit the Making It Home Blog at http://www.makingithomewebzine.com/blog
Jenn Thorson shares her recipe for Chocolate Chip Oatmeal Peanut Cookies in a Jar
As for me, I am a pastor's wife and stay-at-home mom to two great kids, Will (almost 4) and Leah (17 months). I keep myself busy spending time with my kids and relearning the lost art of being a housewife. In my spare time, I write freelance articles for The Untrained Housewife (www.untrainedhousewife.com) and volunteer at my local Women's Pregnancy Center. The purpose of my blog, Mommy Musings and Meditations, is to encourage wives and mothers in their spiritual walk and to share some of my favorite recipes along the way! On Wednesdays you'll find a cute little quote from my spunky little boy as well (I call them "Will-isms"). I hope to expand my blog with menu plans and other learn-as-I-go homemaking tips. I hope you all will join me as we learn and grow together!
Debbie Hegeman shares her recipe for Oatmeal Date Bars.
My blog  is Debbie's L'bri. L'Bri is an Aloe based skincare company.  On my blog I talk about natural skincare and natural food, herbs etc.
BobbieSue Hill shares her recipe for Peanut Butter Criss Cross Cookies
My name is BobbieSue Hill. I own Fusion Handcrafts, and I have a new, related blog fusionhandcrafts.blogspot.com.
My blog is generally about the things that I make and saving money.
Amber Hockman shares her recipe for Pretzels with Pizzaz
I'm just a girl who dreamed of being a Wonder Woman one day, and from the looks of my life now, I think I achieved my goal! After receiving my undergrad in Teacher Education and my Master's degree in Holistic Education, I served for six years in the public school system. I taught gifted students, ranging from Kindergarten-8th grade. I honestly believe Goad gave me all these opportunities to prepare me for the BEST job I've EVER had- a home schooling mother! I blog at http://thefantasticfive-hockmana.blogspot.com.
Kathie Schmidt shares her recipe for Russian Tea Balls.
I have a blog titled "The Creation of Possum Manor."  www.kathieschmidt.com. I am a city girl who moved to the mountains of North Carolina ten years ago. I have learned to can, bake, and tend chickens. I make my own laundry detergent, dish washer detergent ( sorry, no one is getting that machine away from me!), and dryer sheets.  I have had a blast!!!  My New Year's resolution is to go at least fifty percent non processed in my life.Oh, my full time job is high school English teacher.
Judy Faulkner shares her recipe for Norwegian Oatmeal Lace Cookies.
Hello, my name is Judy and I am sort-of a stay at home mom. I run a small home-based daycare so I could stay at home with my own children (18 & 10 now). I also sell Avon to help make ends meet. I also love to bake and hope to turn that into a money-maker one day. My great-grandfather was born in Norway, so the recipe I'm sharing is a Norwegian Oatmeal Lace Cookie. I hope everyone enjoys it. It is very easy to make.
Last but not least, here are two of my own favorite cookies – Snickerdoodles and Oatmeal Raisin Cookies.
Warmly,
Susanne Myers – The Hillbilly Housewife
P.S. Here are some graphics you can use to help use promote the Virtual Cookie Exchange 2009. Please link them to this page.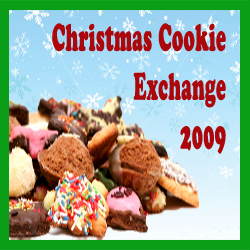 Disclosure: Some of the links below are affilate links, meaning, at no additional cost to you, I will earn a commission if you click through and make a purchase.