Fred's Oatmeal Cookies
Disclosure: Some of the links below are affilate links, meaning, at no additional cost to you, I will earn a commission if you click through and make a purchase.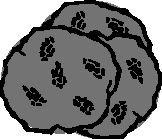 1 cup margarine (2 sticks)
1 cup brown sugar
1/2 cup white sugar
2 medium eggs
1 teaspoon vanilla
1-1/2 cups all-purpose flour
1 teaspoon baking soda
1 teaspoon ground cinnamon
1/2 teaspoon salt
1/4 teaspoon nutmeg
3 cups rolled oats
1 cup raisins (optional)
Soften the margarine in the microwave, or by leaving it on the counter for a few hours. In a large bowl combine the margarine, both sugars, egg and vanilla. Beat with a whisk until very fluffy and shiny. Measure in the flour, baking soda, cinnamon, salt and nutmeg. Use a big spoon to mix it all up. Finally stir in the oatmeal, and the raisins if you are using them. The mixture will be thick. Drop by tablespoonfuls onto an ungreased cookie sheet. Bake at 375° for about 10 minutes. Do not overbake. Makes about 3 dozen.
These are a real favorite in our house. Fred would eat them all in one sitting if he could. My kids don't like the raisins, but Fred and I both do, so we do half a batch of each. First I bake 2 panfuls without raisins, then I add 1/2-cup of raisins to the remaining dough and bake them last. That way everyone is happy.