Using Casseroles For Freezer Cooking
Using your freezer is a smart and effective way to provide hot meals for your family, especially if the majority of those meals are casseroles! Here are a few good tips to making sure your casserole freezer cooking day is successful!
Prepare two casseroles any time you make one. Put one in the oven to bake for dinner and put the second in the freezer for another night.
Casseroles will stay good in the freezer for 2 to 3 months. Just be sure not to use leftovers in a freezer meal!
Freeze in layers so that ice crystals will not form on your food. 2" deep is the perfect depth for freezing casseroles.
Use glass pans or metal casserole pans when freezing.
Plastic "freezer" bags are thicker and stop evaporation better than the less expensive "storage" bags, insuring a wholesome, tasty food. Don't reuse bags. This way, you are not passing on germs and bacteria.
Make sure any container or wrap you use is completely sealed and will not leak. Press out as much air as possible; this helps avoid freezer burn.
Label every container with the recipe name, reheating or serving instructions, and the date on which you prepared and froze the casserole.
Do I Have To Thaw My Food Out First?
There are some tricks to reheating your frozen casserole successfully.
To cook a frozen family size casserole, add about 40 minutes to 1 hour to the unfrozen cooking time. Deep dishes and very large size pans cooked from frozen may take up to 3 hours extra.
The safest and best way to thaw frozen foods is to put them in the refrigerator the night before. Do not use the microwave.
Most frozen foods can be taken from freezer to the oven without any worries or concerns.
Foods which get mushy (pasta, rice, etc) get MORE mushy if thawed first. Cook from frozen if you have time.
Preheat your oven following the instructions on the label you made when you froze it. Then cook it for the calculated reheating time.
If the dish is large and frozen keep it covered and keep the oven temperature between 325 and 375 to avoid both drying out the edges and unsafe time for low temps in the middle of the dish.
If you follow these tips and tricks, your family will be getting a well deserved casserole dinner anytime you need a quick meal!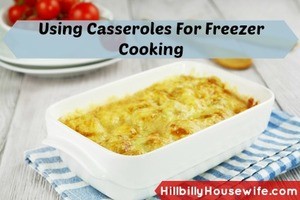 Disclosure: Some of the links below are affilate links, meaning, at no additional cost to you, I will earn a commission if you click through and make a purchase.