Use Last Of The Peanut Butter, Nut Butter, Jam, Or Jelly In Jar
Use up the last of your peanut butter (or other nut butters) left in jar by making oatmeal for breakfast right in the jar.
Pour in a serving amount of oats, milk and sugar or fruit to taste.  You can add whatever you like. (Note: You can use raw oats, as the overnight soaking makes them soft.)
Shake the jar well, leave in the fridge overnight and have as oatmeal in the morning!
This tip is great for people who have to buy expensive nut butters because they have peanut allergies.
Also works for jam/jelly etc.
Get your money's worth!
(Editors note:  This frugal tip was edited slightly to read like a recipe.  GREAT tip!)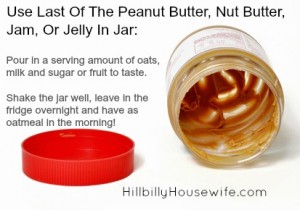 Disclosure: Some of the links below are affilate links, meaning, at no additional cost to you, I will earn a commission if you click through and make a purchase.