Turn Meals Into Memories – Old Fashioned Cooking Builds Family Ties
Recently my friend Patti Winker of RemarkableWrinklies.com released her ebook, Memory Lane Meals. This cookbook is subtitled "A Collection Of Recipes Celebrating Cozy Meals From Days Gone By" which gives you a pretty good idea of where Patti's heart lies – in the warm and welcoming old fashioned meals of her childhood.
Yes, Memory Lane Meals is a "remember when" sort of cookbook filled with the kind of food that was served in cozy kitchens during the 50s and 60s.  These were the years when big casseroles and pots full of hearty ingredients were all bubbly and hot when kids got off the bus after school.  These are the kind of meals that Patti remembers.

I know my readers here at HBHW enjoy hearty homemade meals.  I also know my readers like the personal touch – you like to get to know the folks who are behind the recipes.  That's why I decided to ask Patti to share a few personal thoughts about old fashioned meals and what it was like growing up in her family.  I know you'll enjoy this little trip down Memory Lane.
So let me introduce you to Patti Winker of RemarkableWrinklies.com, author of Memory Lane Meals: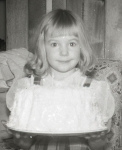 Hello, Susanne, and friends at Hillbilly Housewife.
I've been a faithful reader (and sometimes commenter) for some years now.  There have been many times when I've scrolled around on HBHW and read a recipe or article that made me say "Hey, I remember that!" so you'll see me pipe in now and again.  That's why it's such an honor to be invited here to tell you a little about myself and why I wrote Memory Lane Meals.
Susanne wanted me to share a bit of personal information, so, let's start with a little look back. (Yes, that's me holding that gigantic birthday cake.)
I grew up in a small town in America during the 50s and 60s, which makes me a part of the "Baby Boomer" generation.  I am part of a very typical post World War II family:  War ended, boy meets girl, gets married, starts family.  Mom home, Dad works.  Lots of kids.  Television test pattern after the 10 o'clock news.  Space race.  Homemade curtains and slipcovers.  45 rpm records.  Spam.  Curlers.  Singer sewing machine.  Ladies Home Journal.  Walter Cronkite.  Kennedy assassination.  Clotheslines.  McCall's patterns.  Barbie.  Ajax.  Beatles.  Hoola Hoops.  Flintstones.  Station wagons.  Ed Sullivan.  Electrolux.  School picnics.  Tang.  Green Stamps.  Jewel Tea.  These things are part of the fabric of my life.
I grew up in the country, on a river, near a big lake, among the tall pines and maple trees.  I was fourth oldest of eleven children.  Yes, eleven children.  My Mom was a homemaker and my Dad worked at the papermill.
On occasion (more and more it seems), I wax nostalgic about the old days.  And, I've noticed that those trips down Memory Lane very often lead to food.  Now, Susanne asked that I get personal, so I'll share a couple actual memories here with you.
One of the funniest food memories I remember from my childhood is about cake.  I was visiting a girlfriend at her house; I was probably about twelve years old.  There was a cake sitting on the counter with chocolate frosting.  I asked my friend who's birthday it was.  She looked at me puzzled and asked "Why?"  I pointed to the cake and said "Well, there's a birthday cake."  That is the first time I knew that cake was served as a dessert and NOT just for birthdays.  As you might have guessed, with eleven kids, my Mom didn't spend too much time on anything other than the main meal.
We had big, hearty meals, but we had simple meals.  We didn't have desserts or snacks (unless it was a special occasion.)  When we got home from school, we waited for Dad to get home from work, and then dinner was on the table.  To this day, I don't have a sweet tooth and I don't snack often.  But when I cook a meal, I cook a BIG meal.  I don't know how to cook for any fewer than a dozen people.  The legacy of my Mom's kitchen lives in me.
I grew up on big pots bubbling away on the back burner, or casseroles in the oven, and loaves of bread toppled over on cooling racks all over the kitchen.  Each afternoon when my sisters and brothers and I all got off the school bus, we headed for the kitchen to see what was cooking.  During the summer months, when the sun was setting and the mosquitoes threatened to carry us away, we wandered into the house to see what Mom had on the stove. My Dad's "What's cookin' Ma?" brought us to the kitchen to find out the answer.  There was always something cooking.
My thought in creating Memory Lane Meals was to share my notion that old fashioned meals, eating together as a family, is important.  Not just for nutrition and for financial reasons, but for the sake of making family connections.  In the house I grew up in, that connection happened around the kitchen table.
I learned that when you cook for someone you love, they will share their thoughts, their life with you. Food fills more than empty tummies – food and the act of feeding your family fills hearts.  If you want to build family ties and connect with your kids, gather around the table together over plates of food.  It works!
Meals together not only create family ties… meals make memories!  When my siblings and I gather together today, we reminisce about meals.  But, we don't just remember the food, we remember the moments, the people, the love.  We remember our family.
This is what's important.
The meals my family shared during our childhood created a bond with my family and memories for a lifetime.
I hope you'll take time today to cook and share a meal with your family.  When you do, you'll have the opportunity to share in your family's thoughts, maybe even their hopes and dreams.  As you gather around your table, cherish those moments.  They are the moments memories are made of.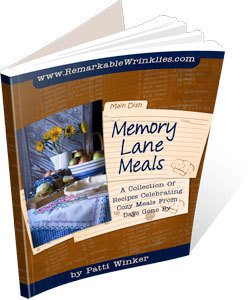 p.s. If you enjoy old fashioned cooking, you'll find a lot to enjoy in this ebook:
Memory Lane Meals – A Collection Of Recipes Celebrating Cozy Meals From Days Gone By.
With over 400 recipes, you are bound to find a hearty dish or two to make for your family.  You will even get a few more glimpses into the world growing up in the 50s and 60s.
Click on and order your copy of Memory Lane Meals today and start enjoying the kind of old fashioned meals that brought generations together around the table.
http://hillbillyhousewife.com/memory
Disclosure: Some of the links below are affilate links, meaning, at no additional cost to you, I will earn a commission if you click through and make a purchase.