Turkey Casserole
Makes 6 servings
3 cups turkeys diced, cooked
2 eggs hard-cooked and chopped
1 4 1/2-ounce can mushrooms sliced, drained
3/4 cup celery diced
1/4 cup almonds sliced blanched
1 tablespoon onions minced
1 10 1/2-ounce can cream of mushroom soup
3/4 cup mayonnaise real
1 3-ounce can chow mein noodles
Heat oven to 350° F. Mix first 6 ingredients. Stir soup into mayonnaise; toss with turkey mixture. Turn into a greased 2-quart casserole and sprinkle with chow mein noodles. Bake for 30 minutes.
Note: Shredded cheese and crushed potato chips may be used in place of noodles. May be made ahead to the point of adding the topping.
* Purchase cooked turkey from deli if you don't have leftovers.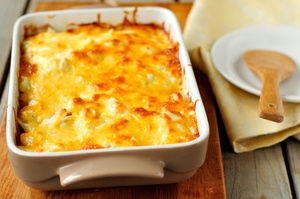 Disclosure: Some of the links below are affilate links, meaning, at no additional cost to you, I will earn a commission if you click through and make a purchase.