Tomato Gravy Easy Southern Style
1/2 cup peanut oil
1/2 cup flour
1/2 to 1 cup water (may add more if roux gets too thick)
1 can diced tomatoes (or about 1 1/2 cups diced fresh tomatoes, seeds and all)
1/4 teaspoon salt
1/8 teaspoon freshly ground black pepper
dash red pepper flakes or hot sauce
In large skillet (not cast iron) heat oil, then whisk in the flour.  (This is your roux.)  Keep whisking over medium heat so oil and flour mixture bubbles a little and thickens.  Let the oil and flour cook until it gets thick and starts to get a light yellow color.  (If you don't let it cook long enough and it stays white it will taste like flour.)  Whisk in the water now and keep whisking until the roux is nice and creamy thick.  If it's too thick and and seems more like a paste, add more water.
Now, dump in the tomatoes and continue to stir. Let this simmer slowly together for a few minutes, then taste and add the salt, pepper, and red pepper flakes.
Some folks like to dice up a little onion and add to the mix in the beginning steps.  Some folks like to add milk or broth instead of water.  This is the simplest recipe here, so you can tweak it however your little ol' heart desires!  Serve over homemade buttermilk biscuits or anything else you want.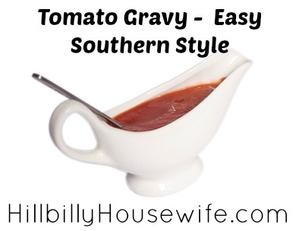 Disclosure: Some of the links below are affilate links, meaning, at no additional cost to you, I will earn a commission if you click through and make a purchase.