Tofu Stir Fry With Pineapple
As you may know, I've been keeping my daughter busy in the kitchen this summer. She's been helping me do a lot of the cooking and has made quite a few of her own dishes and treats. She asked to cook something with tofu. We make tofu pudding quite a bit with soft tofu. She wanted to cook up some firm tofu for dinner. After some research and tweaking, we came up with some yummy tofu stir fry full of great flavors and veggies. To add a little sweetness, we added some fresh pineapple. The rest of the pineapple was dessert.
Fresh pineapple can be a bit pricey. Unless you can find it on sale, use canned pineapple instead. It'll be just as yummy.
Tofu Stir Fry With Pineapple
Ingredients
1 pack (12 oz) firm tofu
2 thick slices of fresh pineapple (or 4 slices of the canned stuff)
6 tbsp pineapple or orange juice
2 tbsp rice vinegar
2 tbsp soy Sauce
1 tbsp ketchup
1 tbsp brown sugar
1 tsp cornstarch
2 tsp canola Oil
2 cloves of garlic, minced
small piece of fresh ginger, grated
1 to 2 red bell peppers
Broccoli, carrots, green beans or other leftover veggies from the night before (optional)
3 cups mung bean sprouts (optional)
1/2 cup Green Onions, sliced (optional)
Instructions
Cut your tofu into bite-sized cubes. Slice your pineapple and cut it into chunks as well.
Combine the juice, vinegar, soy sauce, ketchup and sugar to create a marinade and cooking sauce.
Marinate your tofu with a little of the mixture (about 3 or 4 tbsp worth). Let the tofu soak up the flavor for at least 15 minutes.
Add the cornstarch to the rest of the sauce and start heating a skillet over medium high heat. Add half the oil and allow it to get nice and hot so you get a nice browning of the tofu.
Speaking of the tofu, pour any access marinade into your cooking sauce and add the tofu to the pan. Fry it until it is well browned on all sides. Remove it from the pan and set it aside.
Add the rest of the oil and stir-fry the onion, garlic and ginger until the onion starts to soften and everything is nice and fragrant. Add the rest of the veggies and pineapple and cook to your preferred "doneness". I like a little bite left in my peppers and any other veggies I'm using.
Put the tofu back in and cook it to heat it back up. Serve the stir fry right away. It's great as is, but also good served over cooked rice.
This recipe is very adaptable to use up whatever is sitting in your fridge. You can add all sorts of other fresh or cooked veggies. I looked through the fridge last night and added some leftover broccoli.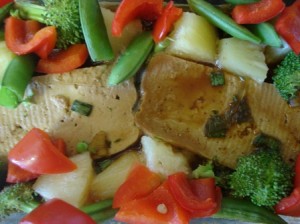 Disclosure: Some of the links below are affilate links, meaning, at no additional cost to you, I will earn a commission if you click through and make a purchase.