To Soak Beans Or Not To Soak Them
Do you soak your dry beans before cooking them? For the longest time, I didn't bother to soak them. They softened just fine after a few hours of cooking. After a little research and some trial and error, I found that my beans cook a lot better and have a nicer texture when I soak them. While soaking does take a little thinking ahead, it's not a lot of work and if you use my ideas below, you're not dirtying an extra bowl or pot either.
Benefits Of Soaking
There are a couple of good reasons why you want to soak most beans. The first is that it allows the beans to rehydrate so they are ready to cook as soon as you turn on the stove. If you start out with dry beans, you'll end up cooking them much longer because the beans themselves don't start to cook and soften until they rehydrate.
Beans also aren't washed after they are harvested. Soaking them for a few hours and then rinsing them with clean water removes a lot of dirt and other residues that have collected on the outside of your beans. Even if you don't soak them for long, at least give them a good rinse in warm water before starting to cook.
Last but not least, soaking beans seems to remove some of the complex sugars in the coating of the bean that can otherwise result in excess gas. In other words, soaking the beans before cooking them allows you to skip the Beano.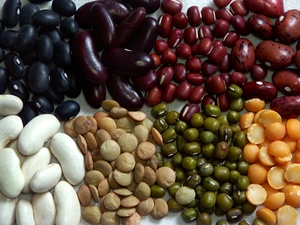 What Beans Should Be Soaked
Most beans should be soaked via either the quick soak or overnight soak I'll describe below. The exceptions are lentils, split peas and butter beans. They are small and soft enough to cook quickly without a soak. I still recommend you rinse them well before cooking with them though.
That being said, I don't always soak my beans. I try to, but sometimes I just don't think far enough ahead and get them started right after rinsing. I am noticing that the texture of the finished beans isn't quite as good and that the beans often bust open before they are softened all the way. In my experience it's better to soak them, even if it's just a quick soak.
Quick Soak vs. Overnight Soak
Depending on how much time you have and how well you plan ahead, there are two different versions of soaking beans. The first is the traditional overnight soak. I use the same pot I plan on cooking the beans in the next day. I pour my dry beans in the pot (looking for small rocks, bad looking beans etc. as I go along), then cover them with plenty of cold water. I put a lid on them and keep them sitting on the stove or counter to soak all night.
If I didn't think about beans until the day I plan on cooking them, I do a quick soak. I add the beans to the pot, cover it with cold water and then put them on high heat on the stove until the water is boiling well. I turn the heat off and let them sit for about 2 hours.
No matter how I soak them, the next step is to drain the soaking liquid and give the beans a good rinse with plenty of cool water. This will rinse away any dirt and residues. It's also a good opportunity to find anything else that doesn't below in the cooking pot. Remember beans are a natural product and you may find small rocks and the likes in your bag of dry beans. My mother-in-law usually spreads the dry beans out on the counter and looks through them before soaking, but I find if I pay attention while I pour them into the pot and then again when I rinse the soaked beans, I can catch anything amiss.
Once your beans are soaked and rinsed, use your favorite recipe and cooking method. The beans can be cooked on the stove or in the slow cooker.
Ready to cook some beans? Not only are beans a great way to add high quality nutrients to your family's diet, but they are versatile too. You can easily adjust flavoring or start out with a big pot of pintos to have with corn bread the first night, then turn them refried beans for bean burritos the following night.
You can use them as a main dish by serving them over rice, with tuna or serve them as a side dish. Here are 35 savory bean recipes from simple frugal dinners to dishes you can make for company.
Get your copy of the Thrifty Bean Cookbook today and start cooking.
Disclosure: Some of the links below are affilate links, meaning, at no additional cost to you, I will earn a commission if you click through and make a purchase.