Tip For Extra Pie Filling
I've been doing a lot of pie baking lately (while working on the Pie Recipe Kindle book). Quite often I end up with more pie filling than I need. Rather than risk overfilling my crust and making a big mess in my oven, I take the extra, put it in an airtight container and store it in the fridge for up to a week.
When I fix my oatmeal in the morning, I just had a big spoon full of pie filling to turn it into a yummy breakfast treat. Today for example, I enjoyed some yummy apple pie oatmeal.
Give it a try. Pretty much any cooked pie filling will work. Just don't add anything uncooked that contains egg (think sweet potato pie filling for example).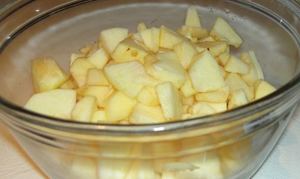 You can add the filling after you cooked your oatmeal or stir it in before microwaving the instant kind. Either way you'll end up with a delicious flavored breakfast treat.
Disclosure: Some of the links below are affilate links, meaning, at no additional cost to you, I will earn a commission if you click through and make a purchase.