Time To Tackle The Fridge
This is the fourth post in a 7 Day series on getting more organized. They come from the ebook "30 Days to an Organized Home" and Tracy Roberts (the author) is kindly letting me share them with you this week. I hope you enjoy them and put them to good use. Please consider getting the entire ebook here. 
Today we're tackling the fridge.
We need to empty and clean it. While not technically part of organizing your home, we always run out of time for projects like this so I am giving you the gift of time – now get to scrubbing!
Remove all the food from your refrigerator. Check the dates and throw out any expired items. Remove all the shelves, trays and drawers and wash according to your manufacturer's instructions and then clean the inside as well.
Replace the food and condiments in an orderly fashion. Try to group like items, salad dressings on one shelf, breakfast items like jam and syrup on another. Repeat the process of removing everything, cleaning and then re-organizing with the freezer. If any items have been in your freezer longer than 6-12 months, now would be a good time to toss them.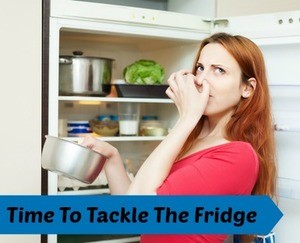 This is also a good time to replace or re-order the filter for your in-fridge water system.
Now, take off all that stuff stuck to the outside of your fridge. Scrub down the exterior and replace just one or two pictures with magnets. You would be surprised how cluttered all that stuff makes your kitchen appear. Try to go for a minimal look.
Tracy Roberts of MomsInABlog.com is the author of 30 Days to an Organized Home, and she has a plan!

Work your way through organizing and decluttering every room in your house in 30 days with easy to follow daily tasks that keep you from getting overwhelmed with the task at hand.

You'll also find helpful printable checklists that will keep you on task and allow you to track your progress.

Get your copy today at http://www.hillbillyhousewife.com/organizedhome
Disclosure: Some of the links below are affilate links, meaning, at no additional cost to you, I will earn a commission if you click through and make a purchase.