Time Is The Best Gift You Can Give Your Children
If you are like most of us, your gift giving budget has been stretched about as far as it can be right now.  And, if you're trying to give your kids a nice Christmas, it's hard to accept the cut backs you know you were wise to make when you look at those expectant little faces.
I know it's difficult. I know we all want Santa to have unlimited generosity. But… maybe we have to be realistic. Having fewer gifts under the tree may be necessary. How can we, as parents, make these lean years okay?
Let's remember what children REALLY want.
Children want their parents to spend time with them and to play with them. Children want their parents to provide them with shelter, guidance, food, warmth, hugs, kisses, and fun; you know, the love stuff.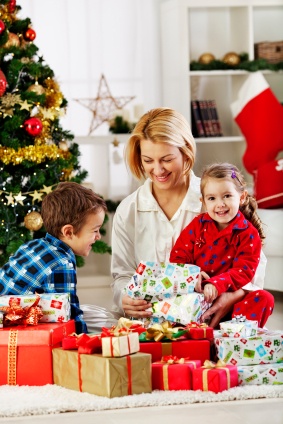 Gifts are great, yes, but gifts will not take the place of a parent's time.
Simply spending time together are the best gifts you can give.  Take a look at some ideas – really, just reminders – for spending time with kids during the Christmas season:
If you have some board games, or video games, or bats and balls, or family movies, or even a deck of cards, you are on your way to a wonderful Christmas Day.
Did Santa bring your daughter fingernail polish? Sit down with her and give her a manicure.
What gift put a big grin on your son's face? Spend time with your son learning about what makes him tick.
And when your kids are finished exploring their new treasures, bring out some old ones. How long has it been since you've played Sorry, or Monopoly, or Chutes and Ladders?
A child knows they are important to you when you spend time with them. That is parenting in a nutshell. Make this Christmas season about real gifts. The gift of time. Merry Christmas!
Would you like to steer clear of the holiday shopping crowds? You can with this guide to Homemade Christmas Gifts and More.

Making Homemade Christmas gifts is one way to actually enjoy the process of gift-giving. Not only are homemade gifts and decorations frugal, they're more fun!

We don't have to rush out to the mall to shop for Christmas when we have ideas for creating gifts right at home. Take time to enjoy your holiday season. Click on and download now to start planning your frugal AND fun Christmas.
Disclosure: Some of the links below are affilate links, meaning, at no additional cost to you, I will earn a commission if you click through and make a purchase.