The Wilma Rudolph Story – Beating Unbeatable Odds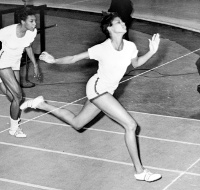 Wilma Rudolph was born prematurely, weighing only 4 1/2 pounds.  She was born into a large family – a very large family – she was the 20th child of 22 children.  Millions of people were poor in the 1940's, but Wilma's family was not only poor, they were African American, living in a segregated society.
Being born premature was just the beginning of Wilma's medical troubles.  Because of the racial segregation at the time, the family was not permitted to have the same medical treatment as white families.  So, when Wilma suffered with one terrible illness after another, it was her family who tended to her.  This was no small task for a poor family.
The moment came when the family received the dreaded diagnosis – polio.  According to the doctor, Wilma Rudolph would never walk.  However, the family never gave up hope.  Instead, Wilma's parents and siblings learned how to do the physical therapy needed to help her get strong.  This family sacrificed everything they had to help Wilma walk again.
And so it was, by the age of 12, with hard work and dedication, Wilma Rudolph walked again – without braces or crutches.  Then and there, she decided that if she could learn to walk, she could learn to run.
Four years later Wilma won a Bronze medal in the 1956 Olympic games.
Wilma Rudolph became an Olympic legend.  In 1960, she became the first American woman to win 3 gold medals, and paved the way for women to compete in areas previously barred to them.
Why is this an inspirational story, aside from the obvious Olympic story?  The real inspiration is the fact that Wilma and her family never gave up hope and fought with fierce determination against all odds; odds which included poverty and discrimination.  Even when the world and all the rules were stacked against them, the fierce love of family along with the desire to "win" overcame every obstacle.
Disclosure: Some of the links below are affilate links, meaning, at no additional cost to you, I will earn a commission if you click through and make a purchase.