The Trip To Germany
This week's article is more of a personal blog post about our trip to Germany. I thought it would be fun to share a few pictures with you of my town, the grocery stores and a few sights around the area. I hope you'll enjoy taking this little trip with me. Let's start with the town itself. It's called Merzig and has been around since Roman times. My all-time favorite building in town is the Catholic Church below. This is where I was baptized and went to church almost every Sunday growing up. It's just such a beautiful building. The picture was taken from the Parish Garden.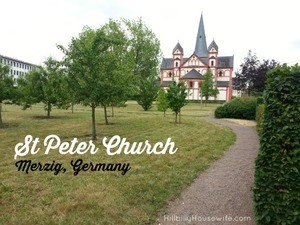 Every time I go back to to visit, I learn something new about my home town. This time I was surprised to learn that the remnants of an even older church where found in what's today the church parking lot. Sadly it wasn't feasible to do a whole archaeological dig, but researchers were able to determine the exact location and outline of the old church and recreated an approximate outline in lighter colored stones. The project was finished just a week before I came to visit.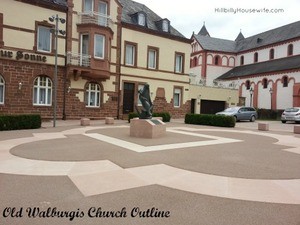 Right across from the church is one of my favorite houses in town. It's a sandstone building.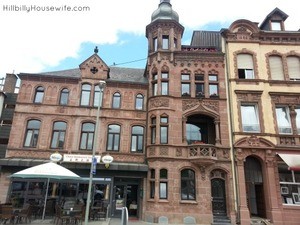 The town is also famous for it's wolf park. We stopped by for a visit and were lucky enough to catch a wolf feeding. Here are a couple of pictures from the park.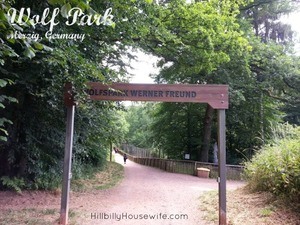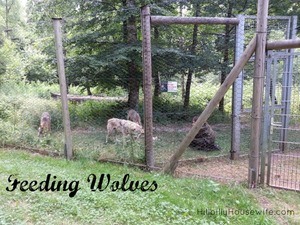 And then of course there are the different little grocery stores. There's the bakery, the butcher shop and the likes. I took a few pictures to give you an idea of what it looks like. Let's start with the Bakery. My mom would ride or walk to one of the local bakeries every morning and surprise us with fresh rolls and pastries for breakfast.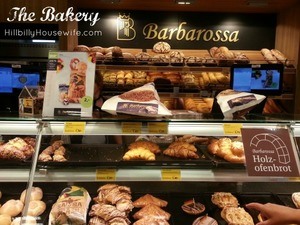 And what would Germany be without sausages? Here we stopped to pick up a few different types to grill.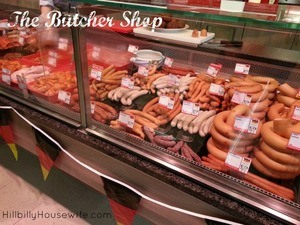 And here they are cooking over a wood fire at my sister's house. I love these tripod grills.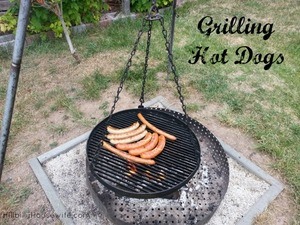 I hope you've enjoyed this little trip to my home town with it's attractions, stores and typical foods. I'm sharing some of my favorite recipes in this week's newsletter and here on the HBHW site.
Disclosure: Some of the links below are affilate links, meaning, at no additional cost to you, I will earn a commission if you click through and make a purchase.