Thanksgiving Muffin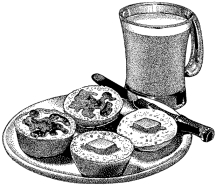 1 1/2 C all purpose flour
1/2 C quick oats
1/2 C pecans, chopped
1 tsp baking powder
2 tsp pumpkin pie spice
1/2 tsp baking soda
1/2 tsp salt
1 C canned pumpkin
4 egg whites or 2 whole eggs
1/2 C honey
1/3 C apple juice
1/4 C canola oil
2 T quick oats
Spray a muffin tin with a non stick cooking spray.
Preheat oven to 375 degrees.
Sift together the flour, baking powder, pumpkin pie spice, baking soda and salt.
Add 1/2 C oats and the pecans and blend together.
In a separate bowl blend the pumpkin and egg whites being sure they are mixed together well.
Add the honey, apple juice and oil and continue mixing until well combined.
Pour the pumpkin mixture into the flour mixture.
Mix until just moistened.
Pour the batter into the muffin cups.
Sprinkle the tops with the 2 T oats.
Bake 25 minutes or golden brown.
This muffin is perfect for Thanksgiving morning. Make them ahead of time and just pop them in the microwave for all your holiday guests. Your guests will be satisfied but not too full to eat that wonderful turkey in a few hours.
Here are some tips on how to freeze these muffins. And here is another great freezer muffin recipe. Give these apricot muffins a try.
Disclosure: Some of the links below are affilate links, meaning, at no additional cost to you, I will earn a commission if you click through and make a purchase.