Tacos
We like beef tacos around here. They are  a quick meal you can throw together in almost no time flat. To save even more time, cook your ground beef when you bring it home from the store and refrigerate or freeze. Just heat, add the seasonings  and it's ready to use in all sorts of dishes.
These tacos are made with both beef and refried beans. This is of course optional, but the beans are a great way to stretch a pound of ground chuck and add some great flavor. Serve them in hard or soft tacos with your favorite toppings like lettuce, cheese, tomatoes and sour cream. Yum!
Homemade Tacos
Ingredients
1 pound ground beef
1 package [url href="http://www.hillbillyhousewife.com/homemade-taco-seasoning.htm" target="_blank"]taco seasoning mix[/url]
1 can refried beans
1 package hard or soft taco shells
1 cup chopped tomatoes
1 can olives
1 1/2 cups shredded lettuce
1 1/2 cups shredded cheddar cheese
1/2 cup sour cream
1/2 cup salsa
Instructions
Brown Ground Beef, Drain and add Taco Seasoning following the directions on the package.
In the meantime heat the refried beans in a saucepan or the microwave.
Spoon meat and beans into Taco Shells and add toppings.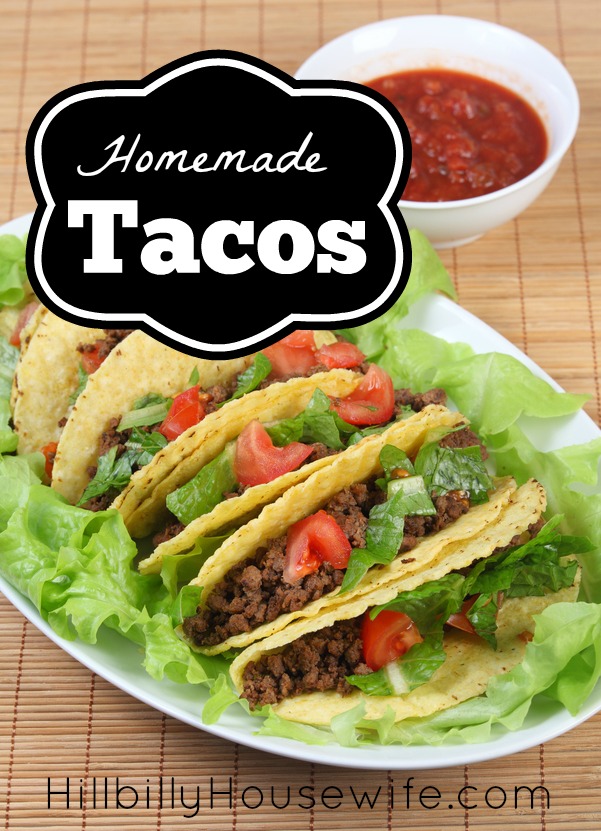 The Hillbilly Housewife Recommends – Dining On A Dime

The Dining On A Dime Cookbook is packed with over 1,200 money saving recipes and tips, kids tips and snack ideas, gift baskets, menus, food storage directions, Cleaning Cents and Pretty for Pennies. The recipes are easy to cook with ingredients that you probably already have in your pantry. To make shopping easy and economical, it also includes a pantry list and a shopping list.
Order your copy today at http://www.hillbillyhousewife.com/dime
Disclosure: Some of the links below are affilate links, meaning, at no additional cost to you, I will earn a commission if you click through and make a purchase.