Sweet Potato Casserole Recipe
Filling:
3 cooked sweet potatoes
1 cup sugar
2 eggs
1/2 teaspoon salt
4 Tablespoons butter or margarine
1/2 cup milk or reconstituted milk
1 1/2 teaspoons vanilla extract or imitation vanilla
Topping:
1/2 cup brown sugar
1/3 cup flour
1 cup chopped pecans or rolled oats
1/3 stick butter or margarine, cold and diced
Mash cooked sweet potatoes. Add remaining ingredients and mix thoroughly; put in a casserole dish. In a separate bowl toss together topping ingredients. Sprinkle on top of mashed mixture. Bake at 325 degrees for 30 minutes.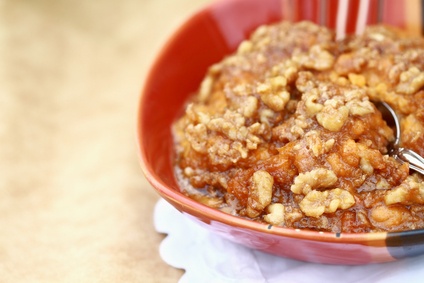 Ready for more amazing Sweet Potato Recipes? You're in luck. I wrote a fun little kindle cookbook with 35 sweet potato recipes from sweet to savory. Click the image below to get your copy of If You Give A Housewife A Sweet Potato.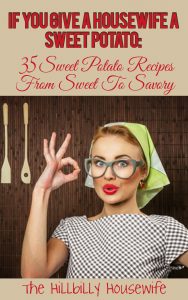 Disclosure: Some of the links below are affilate links, meaning, at no additional cost to you, I will earn a commission if you click through and make a purchase.