Sweet Watermelon Treats
Is there anything better than a big slice of watermelon on a hot summer day? While we didn't have as much luck as last year, growing our own, I can find them everywhere around here.
Actually, there is… My friend Chrystal Collins from NaturalThrifty.com shared two of them over the past few days. The first was this quick idea for a healthy and tasty watermelon slushy.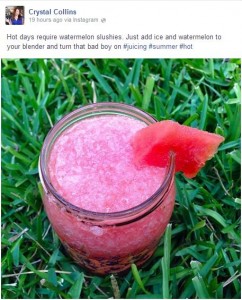 The second one are these tasty watermelon coconut bites. Here's what Crystal has to say about them:
Just imagine serving this at parties as an appetizer with some toothpicks. Your guests with think you slaved over this…actually probably not 'cause it's pretty obvious how simple they are. However, your guests will be like, "OMG, that's so simple! I never would have thought of that, and these are freakin' amazing! It's like a party in my mouth – a tropical one!" True story. If they don't say that word for word, I don't know what's up with your party guests.
Click on through to her Watermelon Coconut Bites post to see how pretty these little appetizers are. Tough I have to be honest, to me they taste more like dessert. Either way, you'll enjoy them.
Disclosure: Some of the links below are affilate links, meaning, at no additional cost to you, I will earn a commission if you click through and make a purchase.