Sunday Morning Tofu Scramble
Ready for something a little different than eggs? Tofu makes a wonderful egg substitute in this filling Sunday Morning breakfast that's not only tasty but good for you. This makes a great vegan alternative to egg scramble. Mix up the tofu with some of your favorite vegetables. I like onions, tomatoes and peppers, but even leftovers from the night before work well. Come up with your own favorite combination and dig in. The turmeric not only gives this dish a nice color and flavor, it's also a natural anti-inflammatory and antioxidant.
Tofu Scramble with Vegetables
Ingredients
1 lb firm tofu, mashed
1 cup of vegetables of your choice (mushrooms, onions, tomatoes, broccoli etc), sliced and diced
1 tsp onion powder
1/8 tsp turmeric
½ tsp salt
Instructions
Heat oil in a skillet and stir-fry the tofu for a few minutes. Add the remaining ingredients and stir well. Cook for a further 6 – 7 minutes until the vegetables are tender.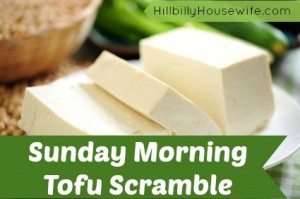 Disclosure: Some of the links below are affilate links, meaning, at no additional cost to you, I will earn a commission if you click through and make a purchase.